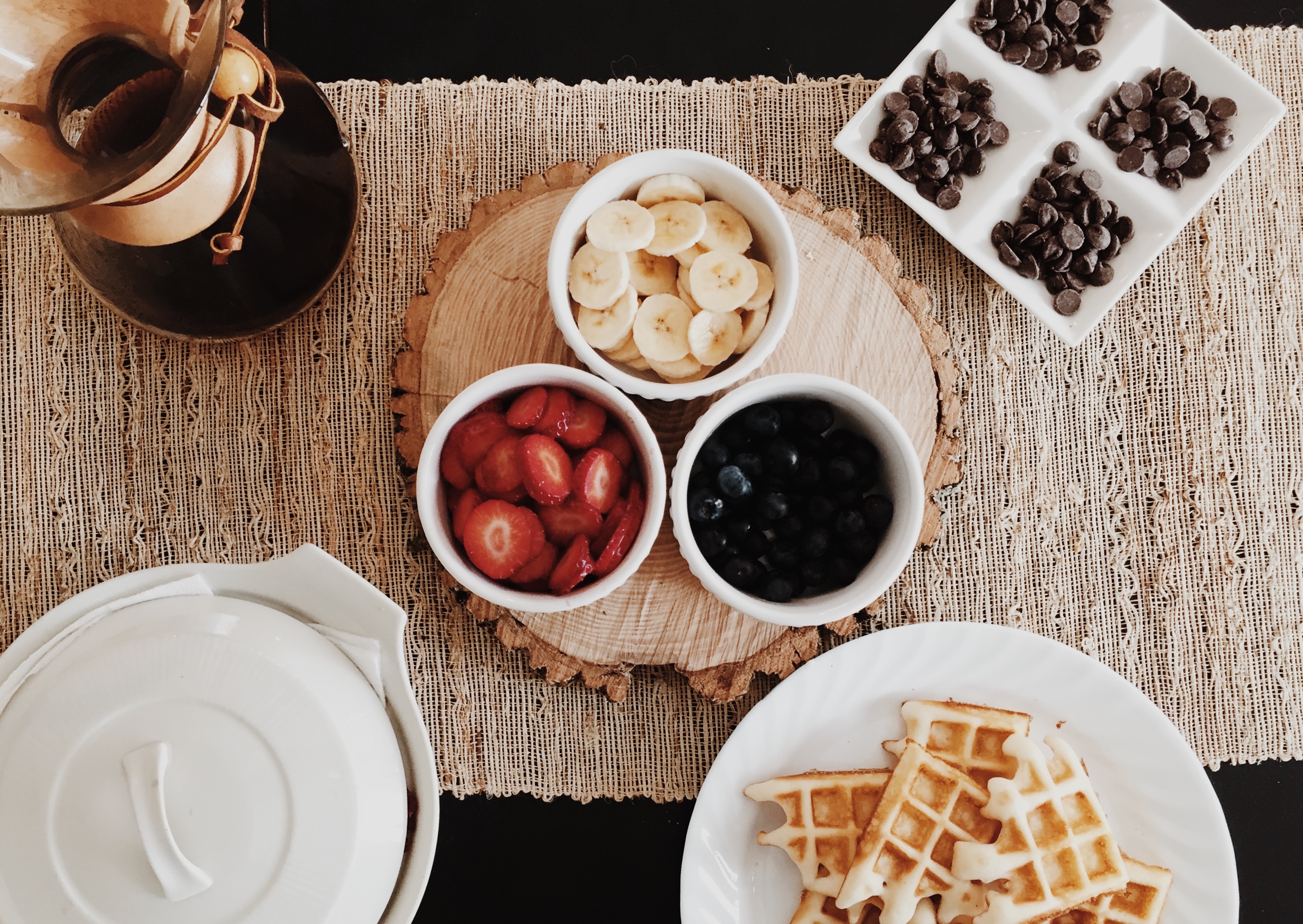 La ville de Los Angeles est pleine de différentes cultures et de traditions, ce qui permet de pouvoir trouver de la nourriture de tous les coins du monde. De jour ou de nuit, vous trouverez la meilleure cuisine à Los Angeles. Alors, où manger à Los Angeles avec un si vaste choix ? Je n'ai bien évidemment pas testé tous les restaurants de la ville, mais voici une liste personnelle de mes endroits préférés et ceux de mes proches.
The city of Los Angeles is full of different cultures and traditions, allowing us to find food from all over the world. By day or night, you'll find the best food in Los Angeles. So where to eat in Los Angeles with such a wide selection? I obviously did not try all restaurants in town, but here is a personal list of my favorite places and those of my friends.
– TACOS –
Guisados
Guisados est un superbe restaurant de tacos mexicains. Leurs tacos sont braisés et différents de la plupart des autres restaurants et bien-sûr ils sont super bons !
Guisados is a superb Mexican tacos restaurant. Their tacos are braised and different from most other restaurants and of course they are super good!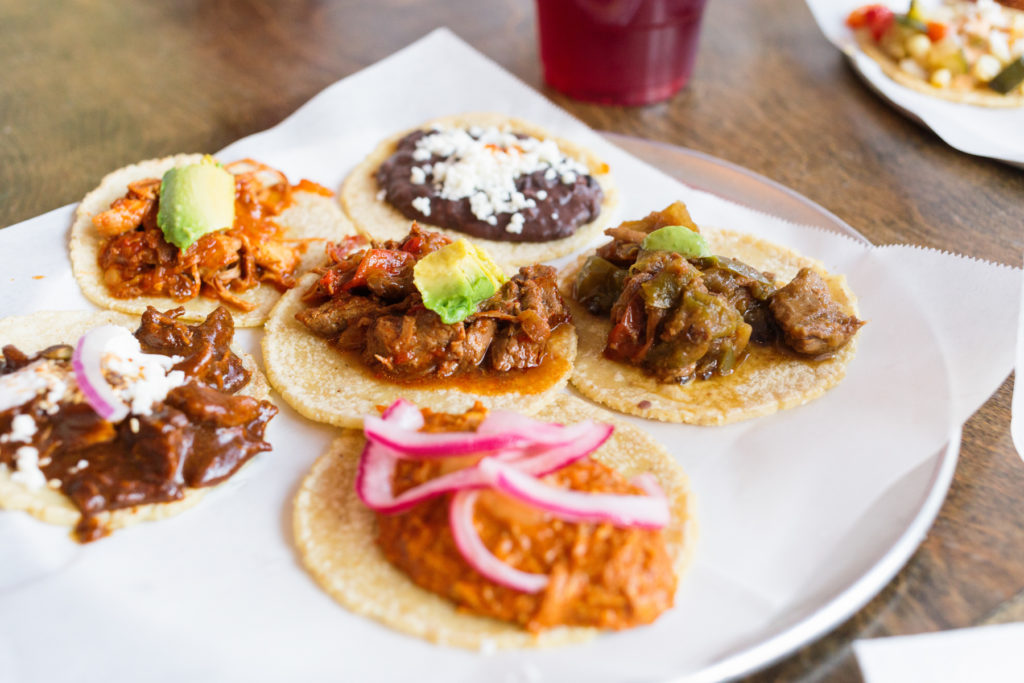 from femalefoodie.com
Hugo's
Hugo's est à Atwater Village. C'est bon marché et il y a beaucoup d'options pour les gens qui sont végétariens et végétaliens.
Hugo's is in Atwater Village. It's cheap and there are many options for people who are vegetarians and vegans.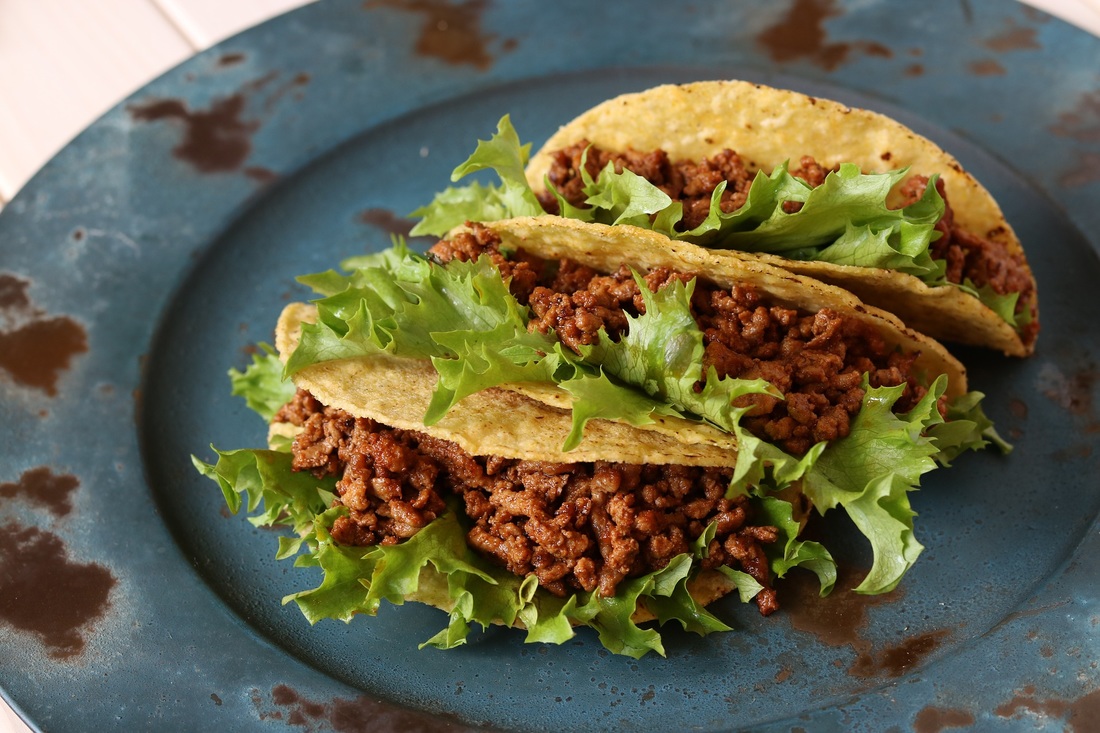 from noshandnurture.com
Escuela Taqueria
Sur Beverly Boulevard ne manquez pas Escuela Taqueria. C'est un joli petit endroit cozy et moderne mexicain qui nous donne l'impression d'être chez quelqu'un et leurs plats sont juste délicieux.
On Beverly Boulevard do not miss Escuela Taqueria. It's a nice cozy and modern Mexican place that makes us feel like we are at someone's home and their dishes are just delicious.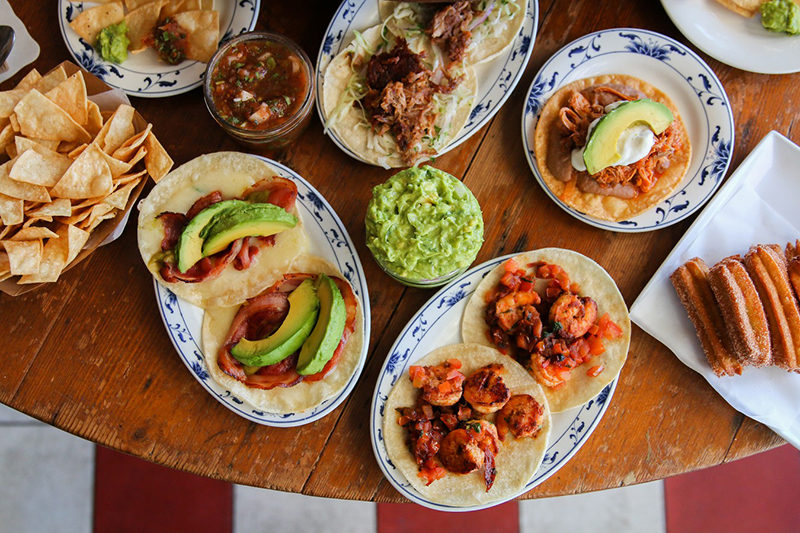 from echoparkcraftfair.com
Pink Taco
Le Pink Taco ou le restaurant emblématique du Sunset Strip. Des plats simples et incontournables vous attendent, le tout servi dans une atmosphère agréable et en musique. Préparez vos photos Instagram, les dressages des plats sont sublimes.
The Pink Taco or the iconic Sunset Strip restaurant. Simple and unmissable dishes await you, all served in a pleasant atmosphere and in music. Prepare your Instagram photos, dressings of dishes are gorgeous.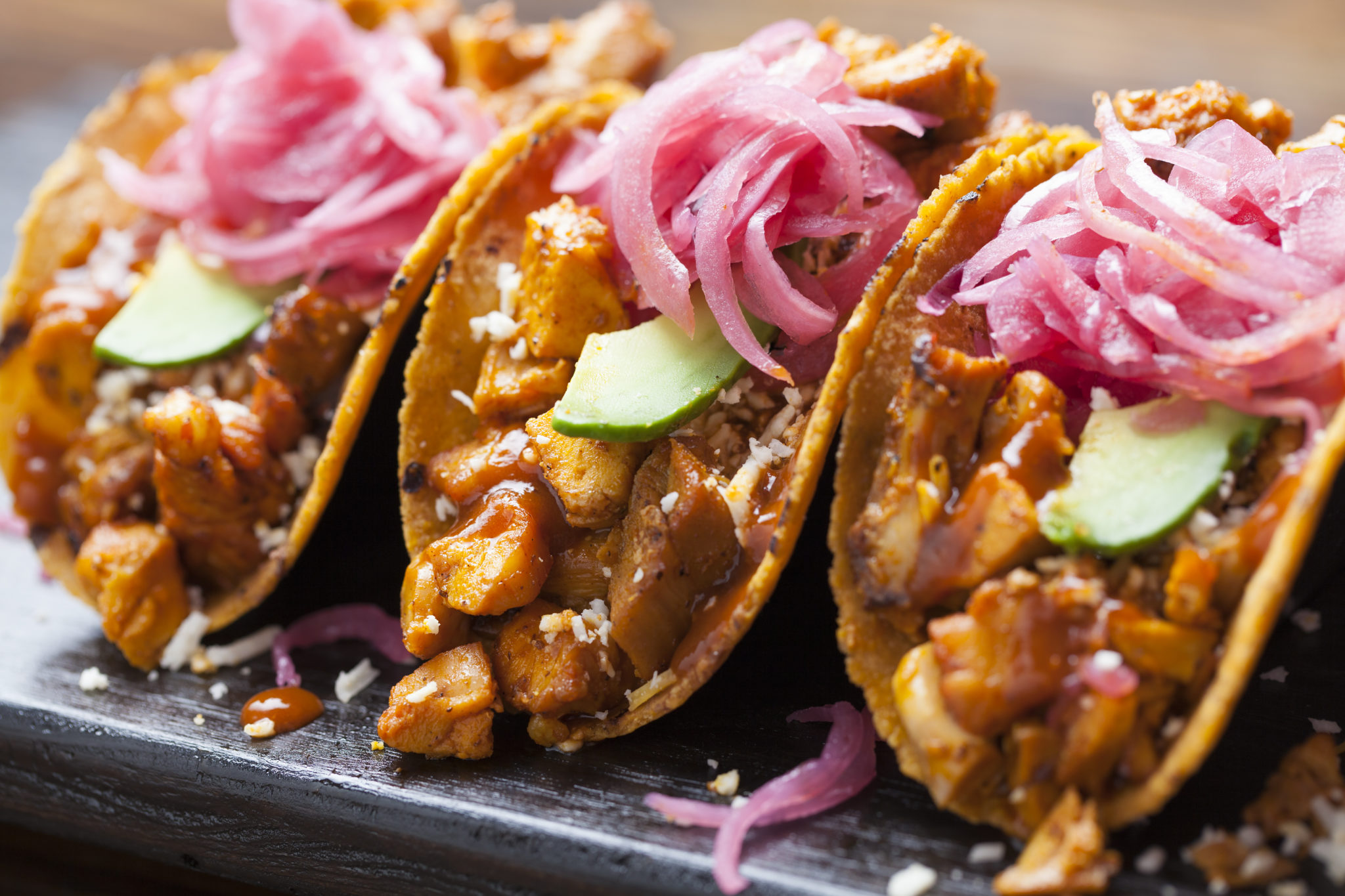 from pinktaco.com
– JAPANESE –
Sugarfish
Sugarfish est un superbe restaurant pour les sushis! C'est un petit menu avec une poignée d'options, mais la qualité du poisson est impeccable.
Sugarfish is a great restaurant for sushi! It's a small menu with a handful of options, but the quality of fish is perfect.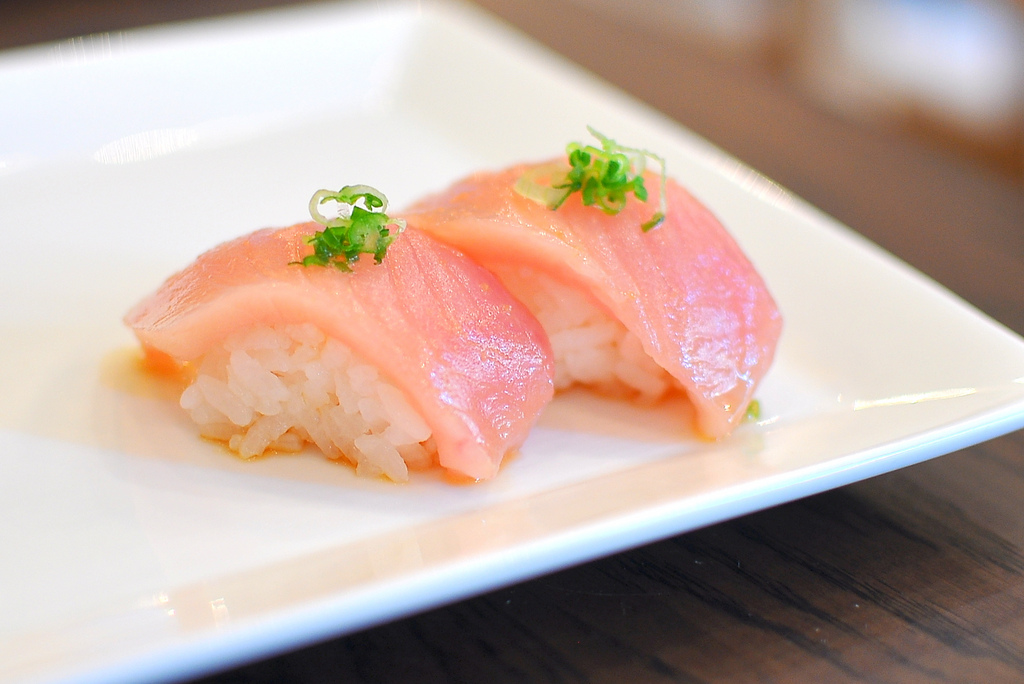 from gastronomyblog.com
Jinya
On trouve plusieurs restaurants Jinya à Los Angeles. Ils ont beaucoup de Ramen Bars et quelques bars Robata mais tous deux sont tops.
There are several Jinya restaurants in Los Angeles. They have lots of Ramen Bars and a few Robata bars but both are super good.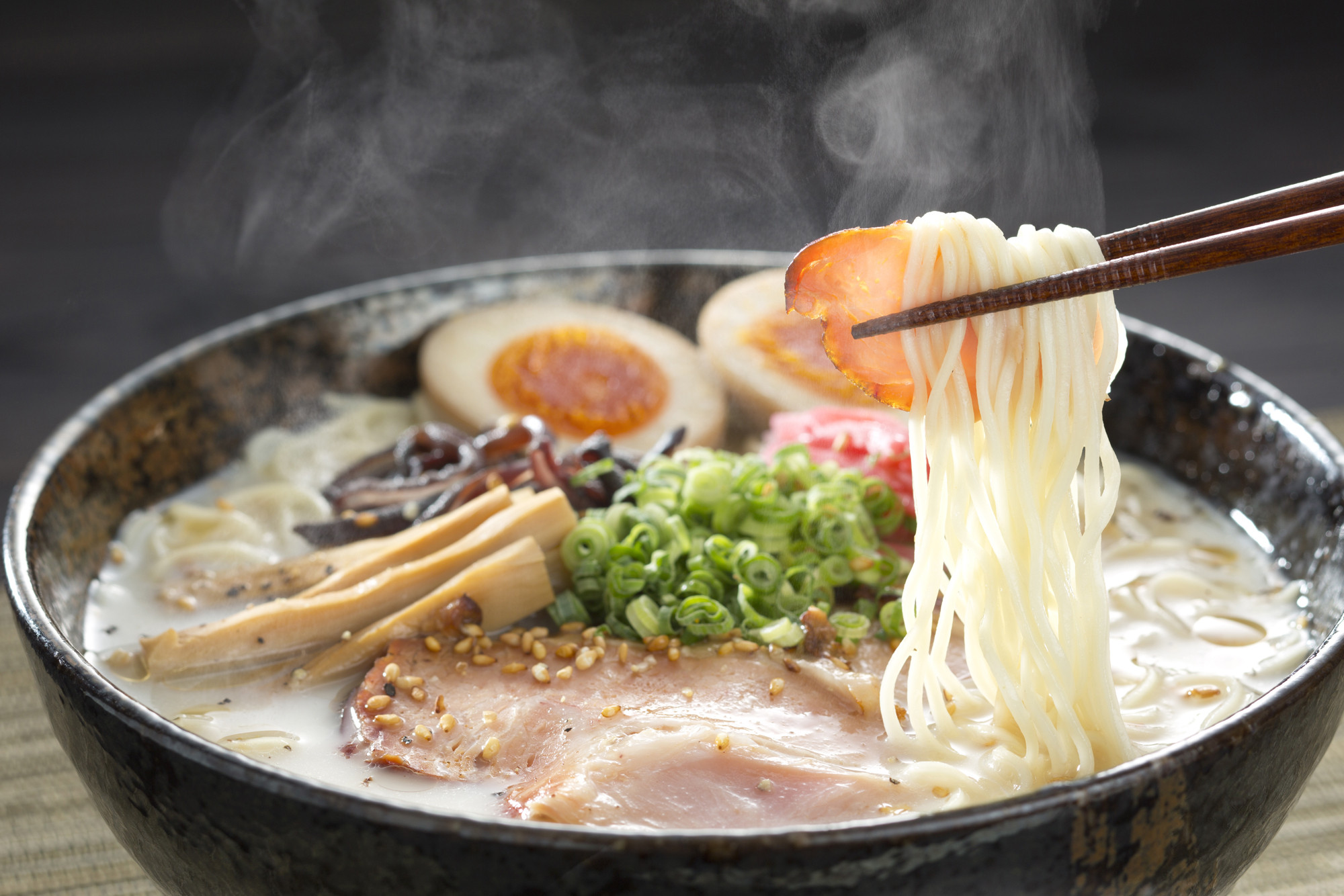 from nypost.com
Tatsu Ramen
Tatsu Ramen est situé à Hollywood. C'est super mignon et dans l'ère du temps avec son système de commande iPad.
Tatsu Ramen is located in Hollywood. It's super cute and in the age of time with its iPad order system.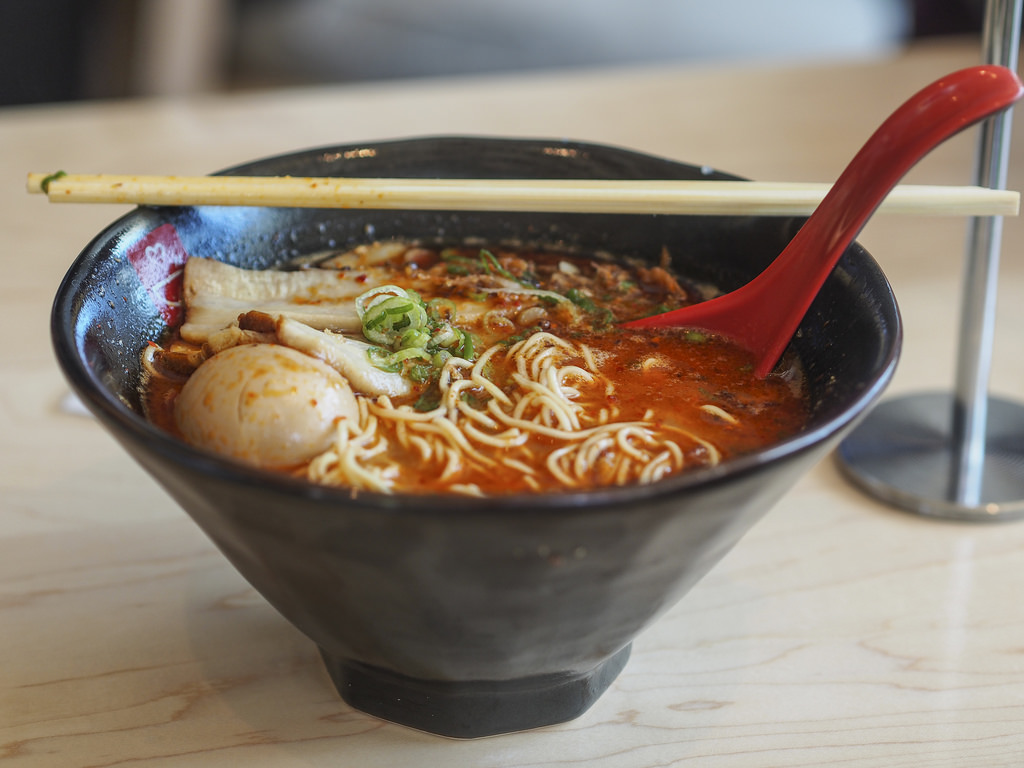 from flickr.com
– POKE BOWLS –
Mainland Poke
J'aime cet endroit parce que c'est dans le centre de Los Angeles. C'est un peu cher, mais toutes les garnitures et les poissons sont savoureux. Je pourrais y manger tous les jours !
I love this place because it's in downtown Los Angeles. It's a bit expensive, but all toppings and fish are tasty. I could eat there every day!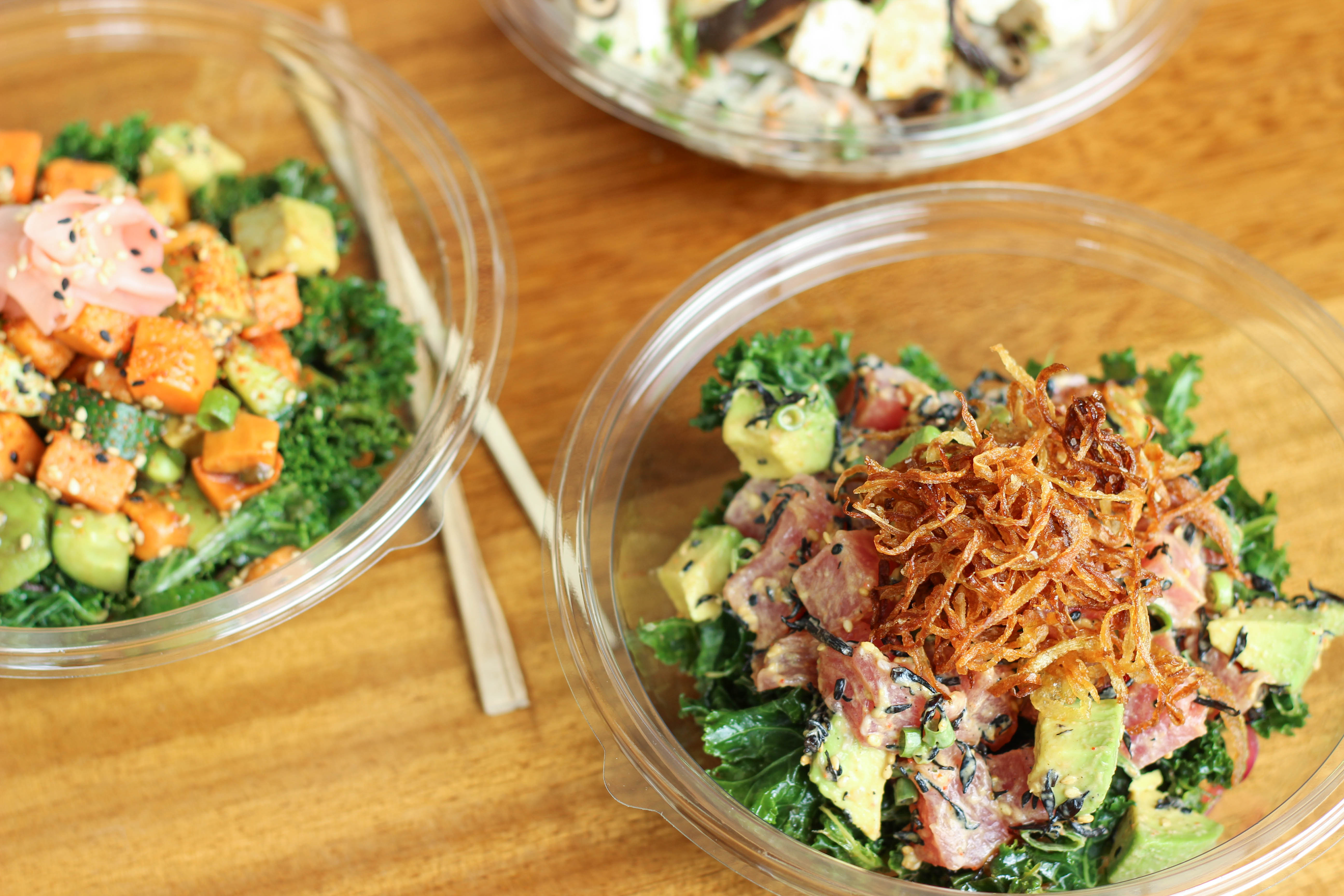 from eater.com
Poke Poke
Encore un endroit formidable et simple où on y mange healthy. Des produits frais, des préparations pleines de saveurs, une ambiance sympa, juste hâte d'y retourner.
Another great place to eat healthy. Fresh produce, preparations full of flavors, nice atmosphere, just looking forward to go back there.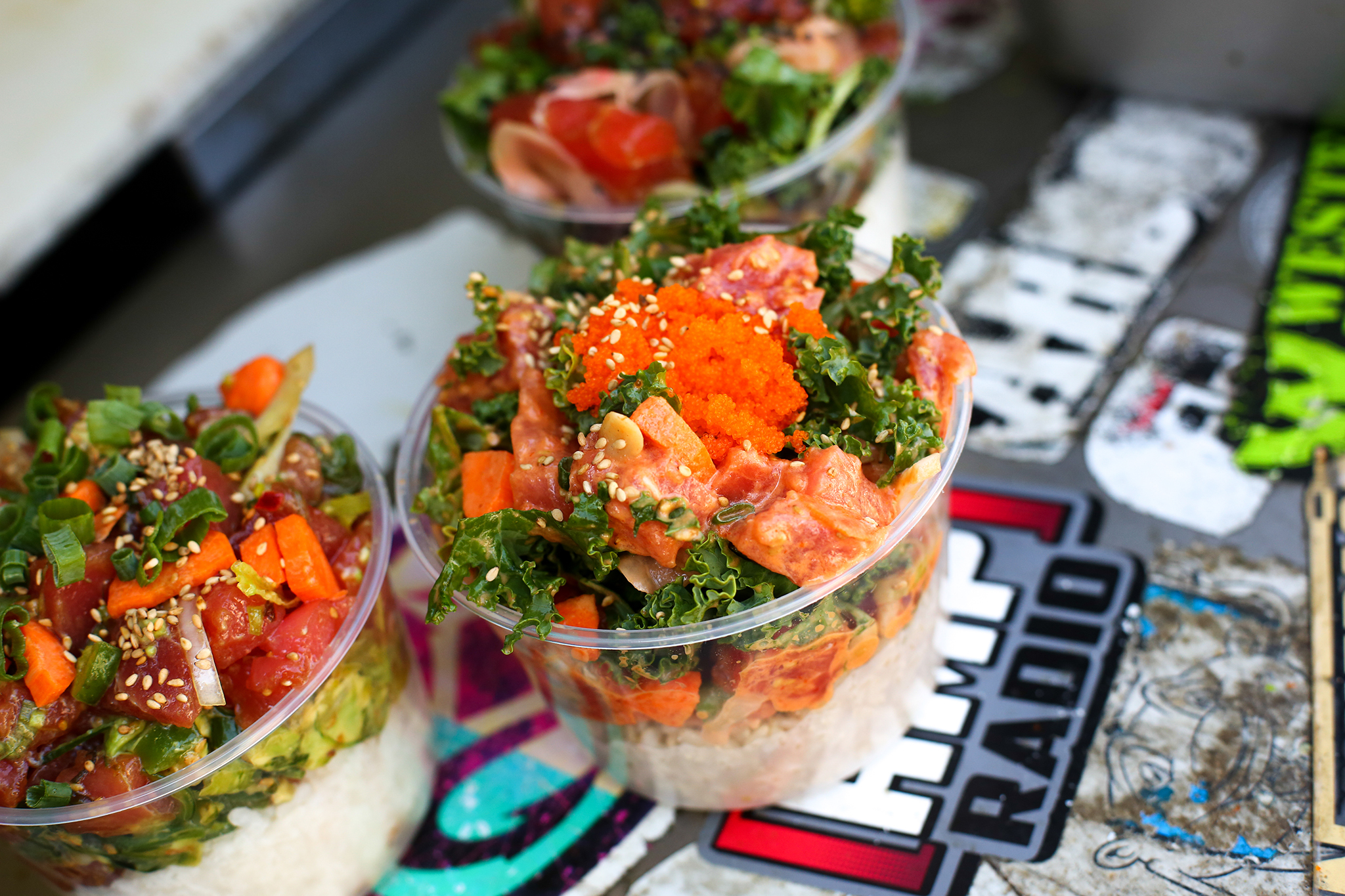 from timeout.com
– FOOD TRUCKS –
Kogi Food Truck
Vous pourrez toujours trouver des camions de nourriture mexicains dans certains quartiers de Los Angeles, mais ce food truck est parfait. J'adore ses tacos Kogi avec des saveurs mexicaines et coréennes !
You can always find Mexican food trucks in Los Angeles, but this food truck is perfect. I love its Kogi tacos with Korean and Mexican flavors!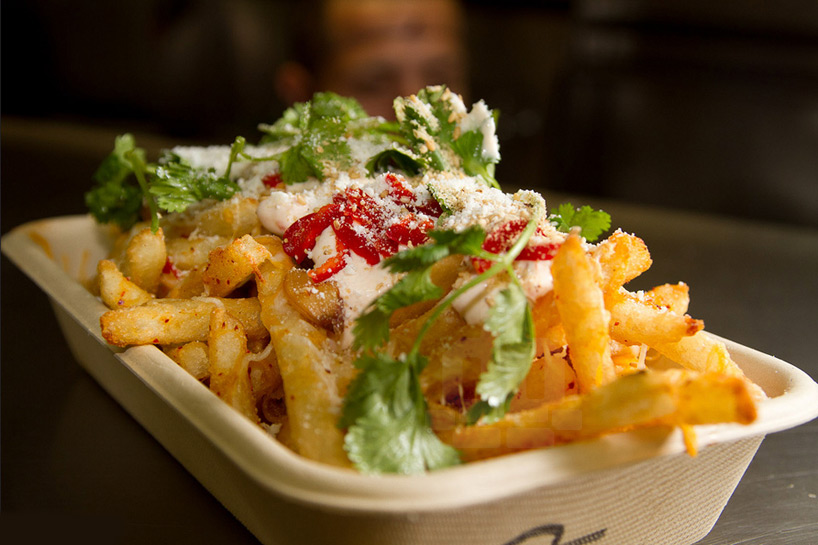 from designboom.com
Free Range
Free Range propose du délicieux poulet frit, produits frais au four, des boissons maison et un menu qui change souvent. Il y a un camion stationné à l'extérieur de Commissary Cafe sur Fairfax mais leur emplacement peut changer. Vérifiez leur Instagram pour plus d'informations sur l'endroit où ils seront.
Free Range offers delicious fried chicken, baked goods, homemade drinks and a menu that changes often. There is a truck parked outside of Commissary Cafe on Fairfax but their location may change. Check out their Instagram for more information on where they will be.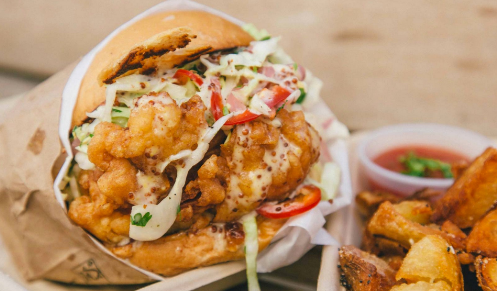 from roaminghunger.com
India Jones Chow Truck
India Jones Chow Truck est un camion alimentaire gastronomique indien qui est aussi végétalien. Le poulet curry au beurre est mon favori mais pour une option végétarienne, essayez les samosas végétariennes.
India Jones Chow Truck is an Indian gourmet food truck that is also vegan. Chicken curry with butter is my favorite but for a vegetarian option, try vegetarian samosas.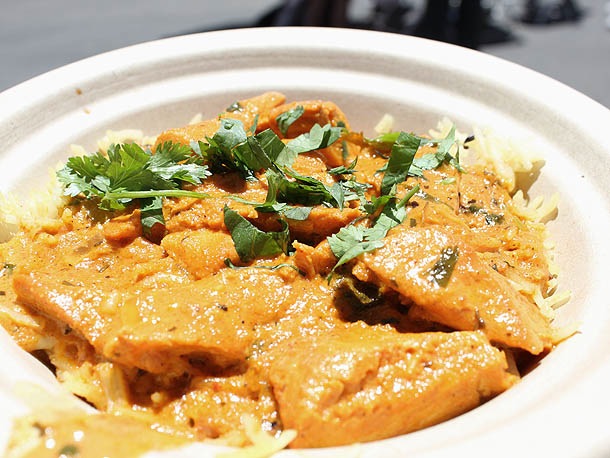 from seriouseats.com
The lobos Truck
Dans ce truck vous pouvez commander de tout, des burgers, des frites ou encore du fromage fondu. Testez absolument les wachos qui sont des frites en gaufre avec des garnitures de nacho.
In this truck you can order everything from burgers, fries or processed cheese. Try absolutely the wachos that are waffle fries with nacho garnishes.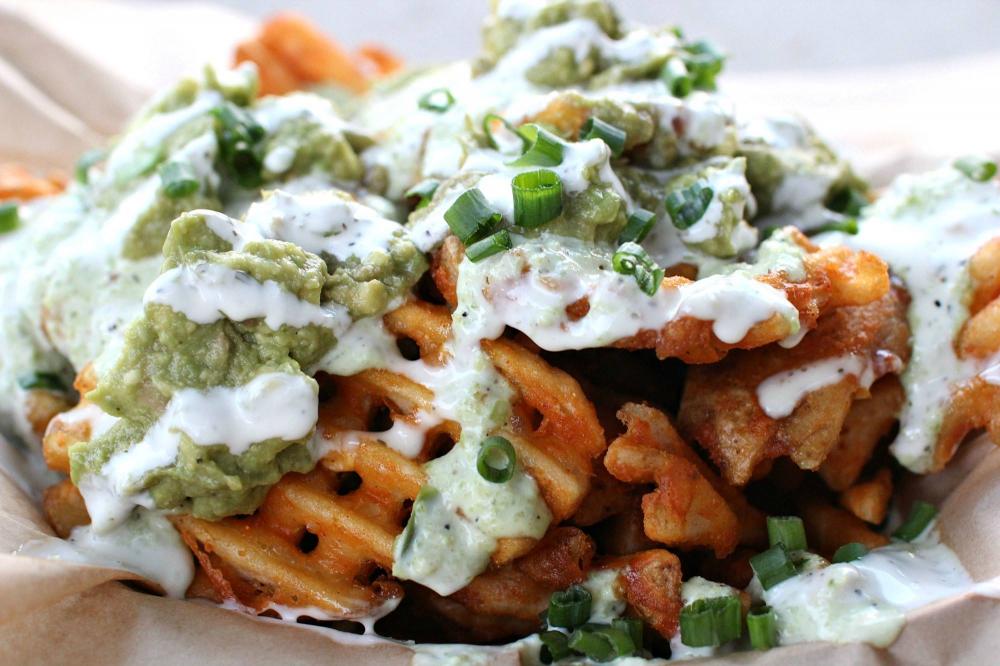 from roaminghunger.com
– BURGERS –
Umami Burger
Si vous recherchez des hamburgers raffinés, vous trouverez surement votre bonheur à Umami, où votre hamburger est servi sur de jolies assiettes en porcelaine. Les hamburgers sont plus petits que la plupart des endroits, mais ils sont tellement savoureux ! Attendez-vous à dépenser plus que dans un fast-food, mais ce sont des hamburgers gastronomiques !
If you are looking for refined burgers, you will surely find your happiness in Umami, where your hamburger is served on pretty porcelain plates. Hamburgers are smaller than most places, but they are so tasty! Expect to spend more than in a fast food, but these are gourmet burgers!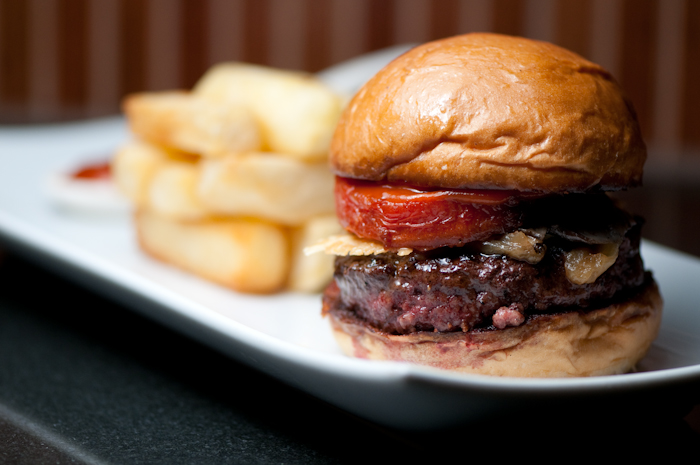 from starchefs.com
Plan Check
Plan Check est une chaîne de restaurants d'hamburgers à Los Angeles. Pour les amoureux d'hamburgers foncez !
Plan Check is a hamburger chain restaurants in Los Angeles. For hamburger lovers go for it!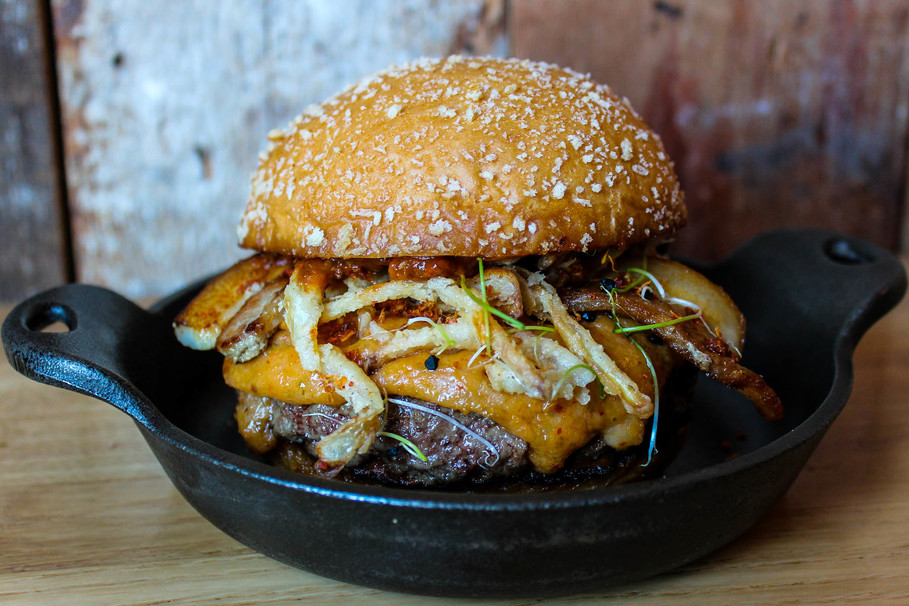 from spoonuniversity.com
In-N-Out
Comment ne pas aimer In-N-Out? C'est juste le meilleur sachant que c'est vraiment bon marché. La qualité des ingrédients n'est pas comparable aux autres restaurants de restauration rapide que nous connaissons tous et la cuisine est ouverte afin que vous puissiez regarder pendant qu'ils forment votre hamburger.
How not to like In-N-Out? It's just the best and it's really cheap. The quality of ingredients is not comparable to other fast food restaurants that we all know and the kitchen is open so you can watch while they are doing your hamburger.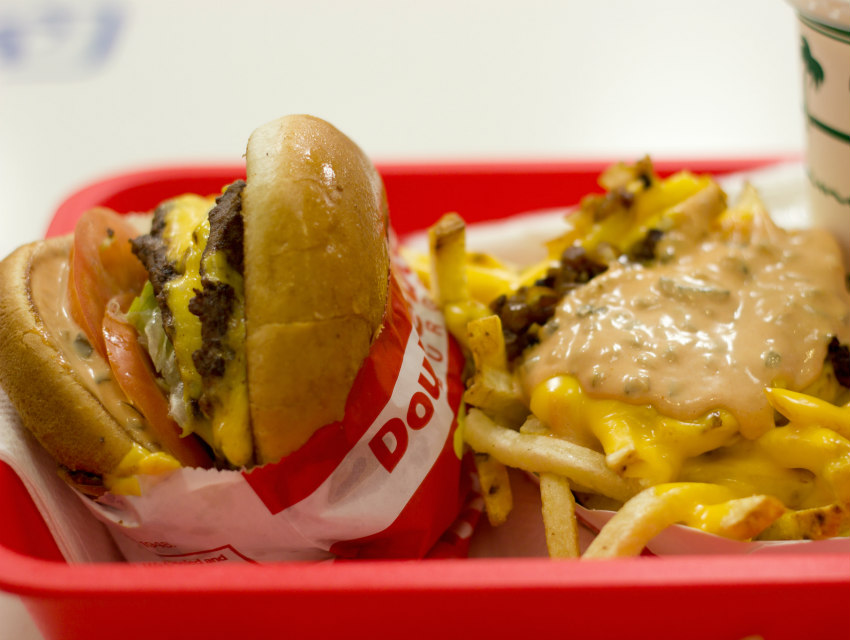 from lamag.com
– SANDWICHES –
The Oinkster
Ils ont un emplacement dans Eagle Rock et maintenant à Hollywood. Venez ici pour des sandwichs et des hamburgers faits maison. Les portions sont généreuses et la nourriture incroyable !
They have a location in Eagle Rock and now in Hollywood. Come here for homemade sandwiches and burgers. Portions are generous and the food amazing!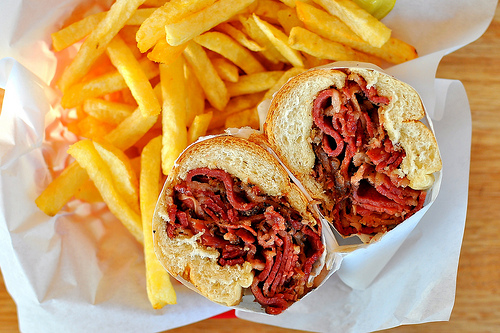 from pinterest.com
Bay Cities Deli
Si vous êtes dans la région, ne manquez pas un sandwich au Bay Cities Deli. Il y beaucoup de choix de sandwichs et la charcuterie est délicieuse. Les sandwichs sont énormes et le plus connu d'entre eux est le « The Godmother » qui est nommé comme étant le meilleur sandwich de Los Angeles.
If you are in the area, do not miss a sandwich at Bay Cities Deli. There are many choices of sandwiches and the deli is delicious. Sandwiches are huge and the best known of them is the « The Godmother » which is named as the best sandwich in Los Angeles.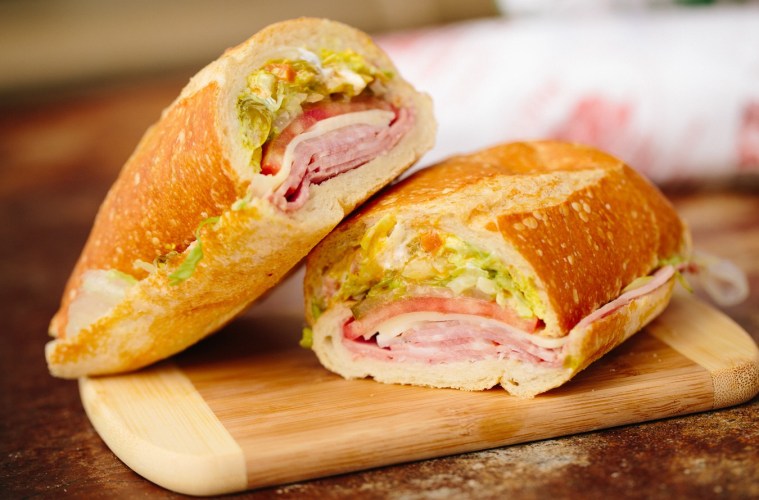 from intheloup.la
– HEALTHY EATS –
M Cafe
M Café propose une cuisine Macrobiotique contemporaine avec des plats équilibrés et créatifs, qui peut être appréciés par tous.
M Café offers contemporary Macrobiotic food with balanced and creative dishes, which can be enjoyed by all.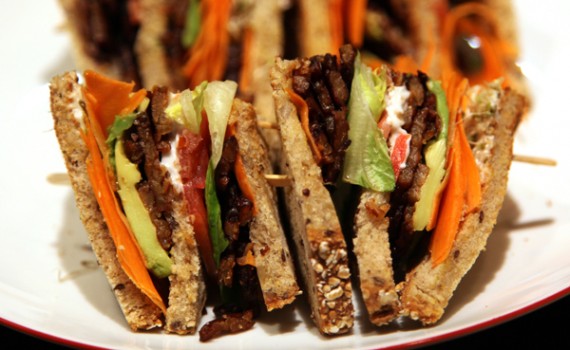 from quarrygirl.com
Sweetgreen
En amour pour cette endroit qui propose des salades simples, saisonnières et saines. Les portions sont excellentes et les plats ne sont pas trop chers par rapport aux autres restaurants de salades à la mode de Los Angeles.
In love for this place that offers simple, seasonal and healthy salads. Portions are excellent and food is not overpriced compared to other trendy Los Angeles restaurants.
from suggest-keywords.com
The Butcher's Daughter
J'adore The Butcher's Daughter ! Leur menu change tout le temps et tout est local, végétarien, non laitier avec beaucoup d'options sans gluten. On adore !
I love The Butcher's Daughter! Their menu changes all the time and everything is local, vegetarian, non-dairy with many gluten-free options. We love it !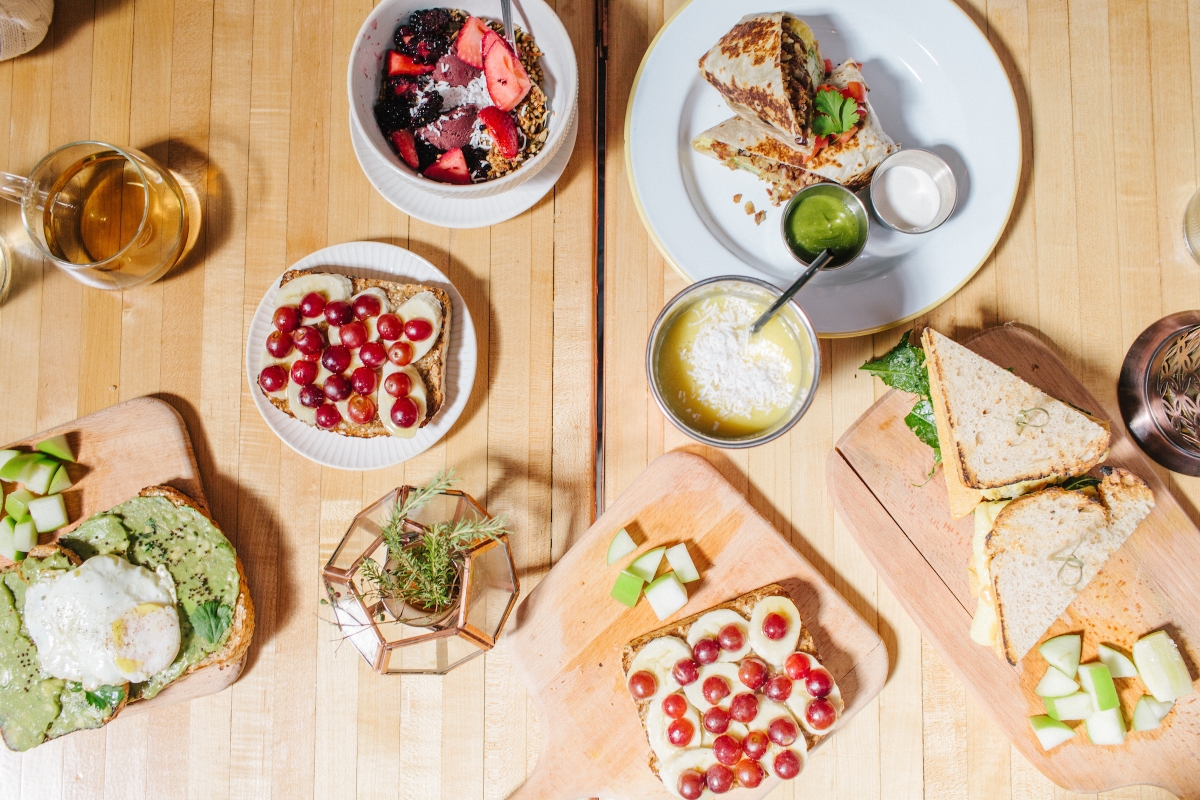 from howyouglow.com
JUICE CRAFTERS
Si vous êtes à la recherche d'un délicieux petit déjeuner sain qui rend bien sur Instagram, rendez vous à Juice Crafters dans le centre-ville de Los Angeles. Leurs açai bowl sont délicieux et leur granola est à tomber par terre.
If you are looking for a delicious healthy breakfast that is perfect for Instagram, you must go to Juice Crafters in Downtown Los Angeles. Their acai bowl is delicious and their granola is to die for.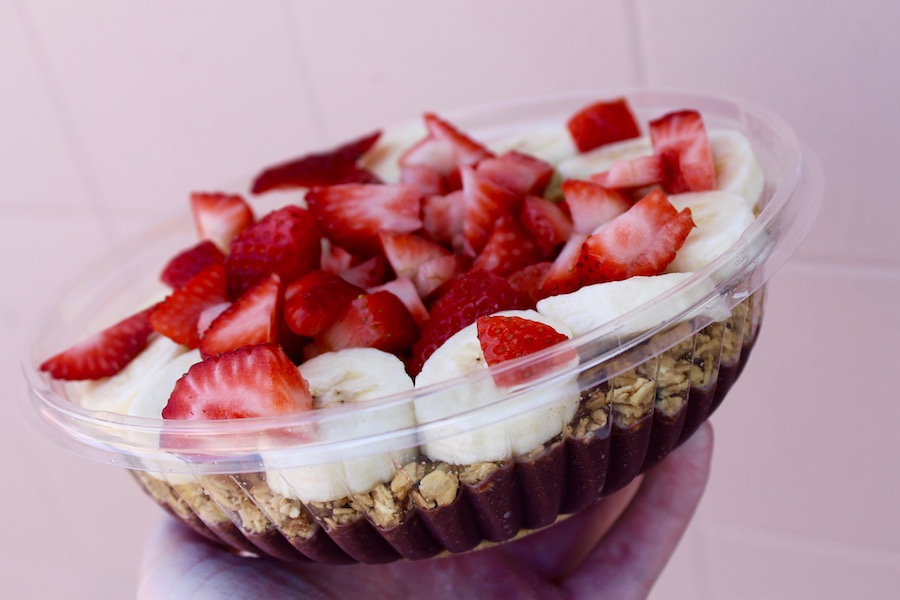 from spoonuniversity.com
Et toi, as-tu des restaurants à Los Angeles à recommander ?
Do you have restaurants in Los Angeles to recommend?