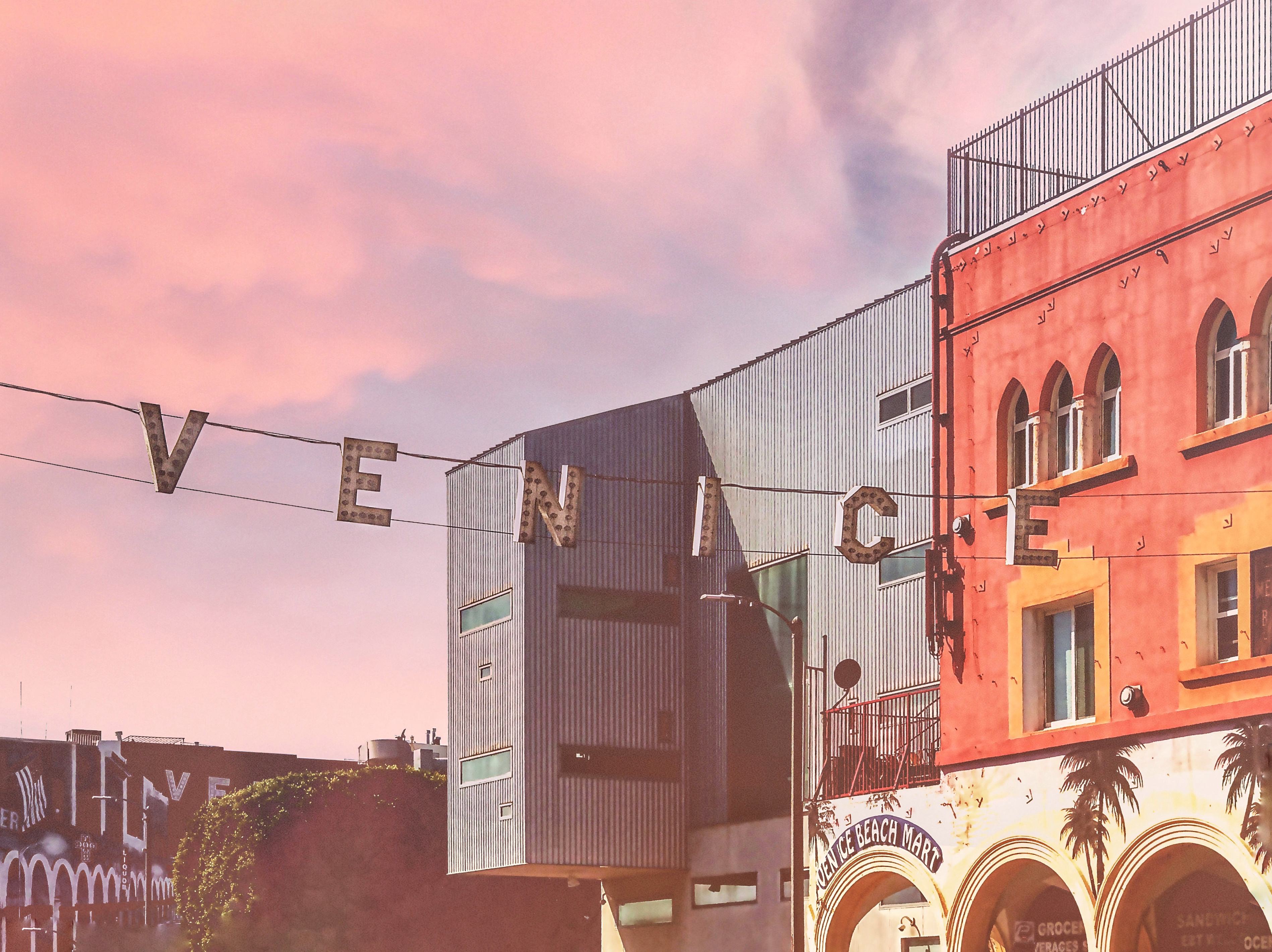 Los Angeles est la ville des rêves pour beaucoup. C'est le centre de l'industrie du divertissement américain avec Hollywood mais c'est aussi une ville qui offre des options infinies pour des expériences mémorables. Tout au long de l'année, vous ne manquerez jamais de choses à faire à Los Angeles. Qu'il s'agisse de visiter un des nombreux musées ou d'assister à un match bruyant, il y a toujours des attractions intéressantes et des événements passionnants qui se déroulent à L.A.
Je vous ai donc réuni les 20 activités iconiques à ne surtout pas rater lors d'un voyage à Los Angeles :
Los Angeles is the city of dreams for many. It is the center of the American entertainment industry with Hollywood but it is also a city that offers infinite options for memorable experiences. Throughout the year, you will never run out of things to do in Los Angeles. Whether visiting one of many museums or go to a noisy game, there are always exciting attractions and exciting events taking place in L.A.
So I've listed 20 iconic activities that should not be missed during a trip to Los Angeles :
WALT DISNEY CONCERT HALL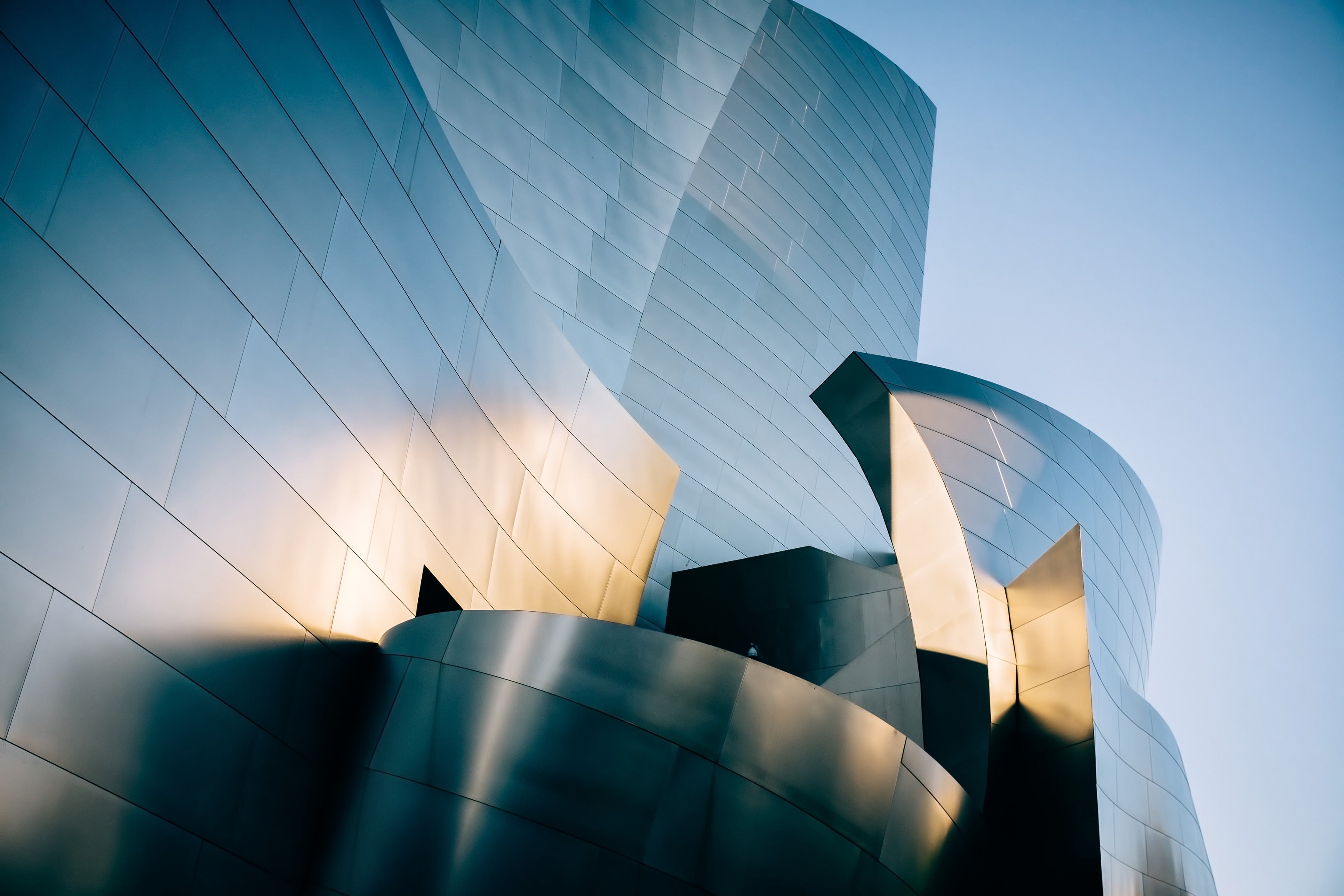 Situé sur la Grande Avenue dans le centre-ville de Los Angeles, Walt Disney Concert Hall abrite la Philharmonie et la Master Chorale de Los Angeles. Conçu par Frank Gehry, les courbes voluptueuses de ce chef-d'œuvre est une signature de la métropole moderne. Ce magnifique lieu a reçu l'éloge de la critique mondiale par les spectateurs pour son architecture exceptionnelle. Pour profiter d'une soirée sympa, partagez un concert avec diner au célèbre restaurant français Patina, à l'intérieur du bâtiment.
Located on Grand Avenue in downtown L.A., Walt Disney Concert Hall is home to the Los Angeles Philharmonic and the Los Angeles Master Choir. Designed by Frank Gehry, the voluptuous curves of this masterpiece is a signature of the modern metropolis. This amazing place has received praise of world criticism by spectators for its exceptional architecture. To enjoy a nice evening, share a concert with dinner in Patina, the famous french restaurant, inside the building.
DISNEYLAND
"L'endroit le plus heureux du monde" continue de ravir les enfants et même les adultes. Une visite au Disneyland de Los Angeles peut être féérique, passionnant, romantique ou nostalgique selon votre âge. Et si vous avez une petite faim, dirigez vous en dehors de ce parc à thèmes populaires vers Downtown Disney, où vous trouverez une large gamme de restaurants, bars et clubs.
"The Happiest Place on Earth" continues to delight children and even adults. A visit to Disneyland Los Angeles can be magical, exciting, romantic or nostalgic depending on your age. And if you're hungry, head outside this popular theme park to Downtown Disney, where you'll find a wide range of restaurants, bars and clubs.
HOLLYWOOD WALK OF FAME
Ce monument unique le long de l'avenue Hollywood Boulevard est l'une des attractions indispensables à Hollywood. Les noms des stars qui ont marqué leur place dans l'industrie du divertissement sont intégrés dans des fameuses étoiles. On en compte plus de 2000 sur la promenade aujourd'hui. En marchant, vous passerez par plusieurs attractions célèbres comme les salles Dholby et les théâtres chinois où vous pourrez comparer les empreintes de pas et les empreintes de main des stars. Autour de cette région, vous tomberez également sur des personnages habillés de vos films préférés, qui vous demanderont un dollar pour prendre une photo.
This unique monument along Hollywood Boulevard is one of the essential attractions in Hollywood. Names of celebrities who have marked their place in the entertainment industry are integrated into stars. There are more than 2000 stars on the promenade today. While walking, you will pass through several famous attractions such as the Dholby and Chinese theaters where you can compare footprints and handprints of celebrities. Around this area, you will also come across characters dressed in your favorite Hollywood movies, who will ask you for a dollar to take a picture.
UNIVERSAL STUDIOS HOLLYWOOD
Los Angeles est la capitale du divertissement du monde et pour les amateurs de cinéma, l'expérience ultime est une tournée en studio derrière les coulisses. Chez Universal Studios Hollywood, le Studio Tour est peut-être l'attraction la plus légendaire qui vous offre la possibilité d'explorer le travail d'un véritable studio de cinéma hollywoodien. Vous emprunterez un tramway qui vous mènera dans les coulisses de plusieurs séries télévisées et films réalisés à Hollywood. Vous pourrez découvrir la séparation de la mer Rouge, Jurassic Park ou encore voir l'épave de l'avion de la Guerre des Mondes. Mais mes moments préférés de la tournée sont le King Kong 360 3-D et la course poursuite de Fast and Furious. Les effets sont géniaux et vous vous sentirez comme si vous étiez dans le film.
Los Angeles is the entertainment capital of the world, and for movie lovers the ultimate experience is a behind-the-scenes studio tour. At Universal Studios Hollywood, the Studio Tour is perhaps the most legendary attraction that offers you the opportunity to explore the work of a real Hollywood film studio. You will take a tram that will take you behind the scenes of several television series and films made in Hollywood. You can discover the separation of the Red Sea, Jurassic Park or see the wreck of the War of the Worlds. But my favorite moments of the tour are the King Kong 360 3-D and the Fast and Furious chase run. Effects are awesome and you will feel as if you were in the movie.
PARAMOUNT PICTURES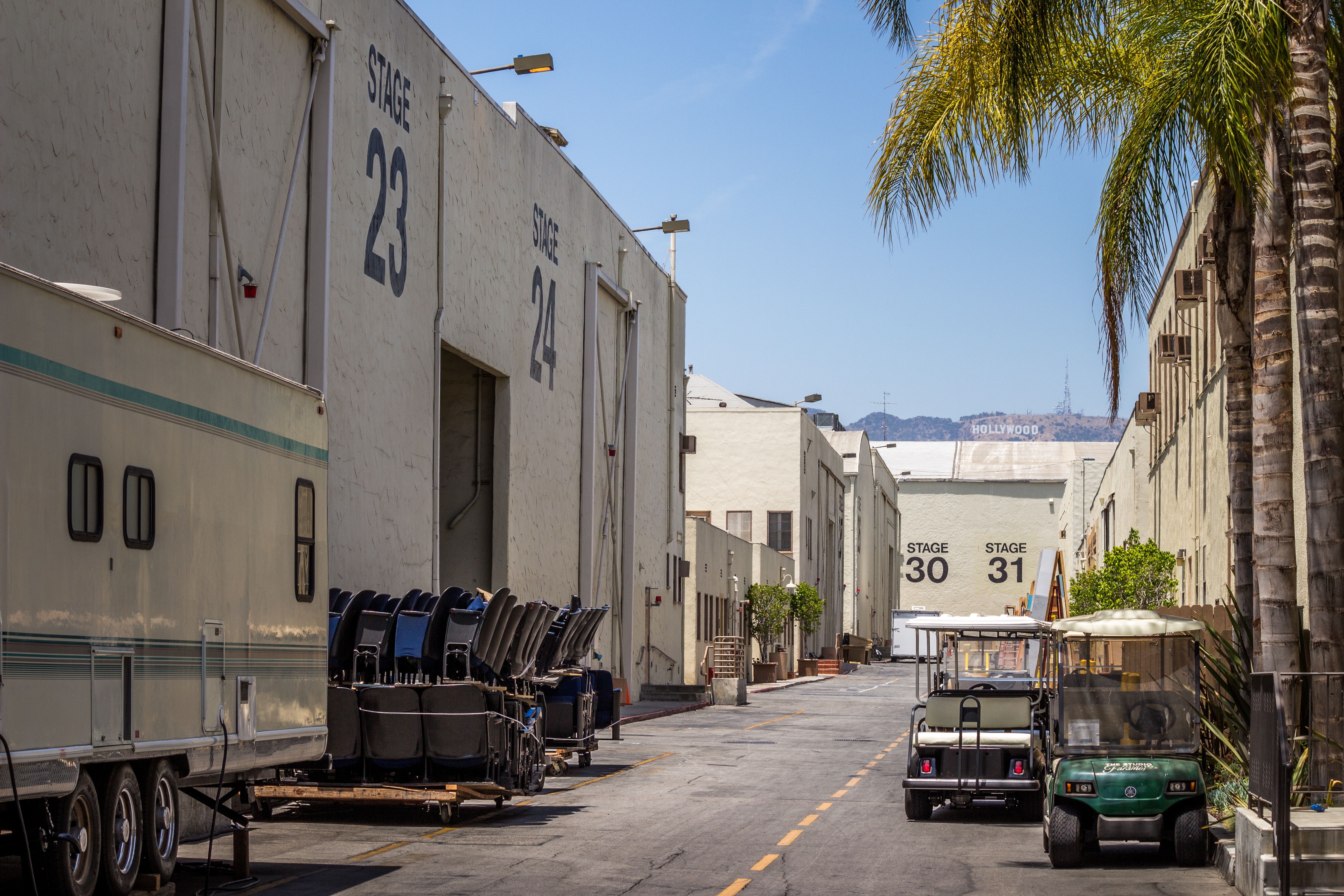 C'est le seul studio reconnu laissé à Hollywood, tous les autres sont à Burbank, Universal City ou Culver City. Paramount Pictures offre la tournée de studio la plus authentique qui vous donne un réel sens de l'histoire de l'industrie cinématographique. Vous pouvez faire une tournée de studio de deux heures ou une visite VIP de quatre heures et demie. En plus de cette visite, vous pourrez voir des films ou des séries en cours de tournage.
This is the only recognized studio left in Hollywood, all the others are in Burbank, Universal City or Culver City. Paramount Pictures offers the most authentic studio tour that gives you a real sense of history of the film industry. You can do a two-hour studio tour or a four-and-a-half hour VIP tour. In addition to this visit, you can see movies or series of films during filming.
HOLLYWOOD BOWL
Ne manquez pas un concert grandiose et en plein air sous le dôme iconique d'Hollywood. Les performances se déroulent la nuit et proposent différents styles de musique chaque soir allant du reggae, aux concerts de rock et aux spectacles de Philharmonie de Los Angeles.
Do not miss a great and open-air concert under the iconic Hollywood dome. Performances take place overnight and offer different styles of music every night ranging from reggae, to rock concerts and shows from the Los Angeles Philharmonic.
RODEO DRIVE
Dominée par des noms exclusifs tels que Gucci, Versace et Cartier, Rodeo Drive est un paradis pour les shopping-addicts. Heureusement, Rodeo Drive ne s'adresse pas exclusivement aux riches et aux célébrités, des magasins et des restaurants plus modérés sont entrecoupés avec les boutiques emblématiques. Mais une promenade pour observer les plus belles vitrines de magasins de la ville est toujours agréable.
Dominated by exclusive names such as Gucci, Versace and Cartier, Rodeo Drive is a shopaholics's paradise. Fortunately, Rodeo Drive is not exclusive to rich and celebrities, shops and more moderate restaurants are interspersed with iconic boutiques. But a walk to observe the city's most beautiful shop windows is always pleasant.
SANTA MONICA
De Malibu à South Bay, Los Angeles abrite certaines des meilleures plages du sud de la Californie. Pour une expérience estivale par excellence, une visite à la plage de Santa Mónica est un must-do. Passez une journée ensoleillée en roulant à roller ou en vélo et en jouant à des dizaines de jeux populaires, notamment au parc d'attractions Pacific Park. N'oubliez pas de profiter d'un magnifique coucher de soleil après une longue journée de plage.
From Malibu to South Bay, Los Angeles has one of the best beaches in Southern California. For a great summer experience, a visit to Santa Mónica beach is a must-do. Spend a sunny day by rolling in rollerblading or cycling and playing many popular games, including in Pacific Park. Do not forget to enjoy a beautiful and peaceful sunset after a long day at the beach.
VENICE BEACH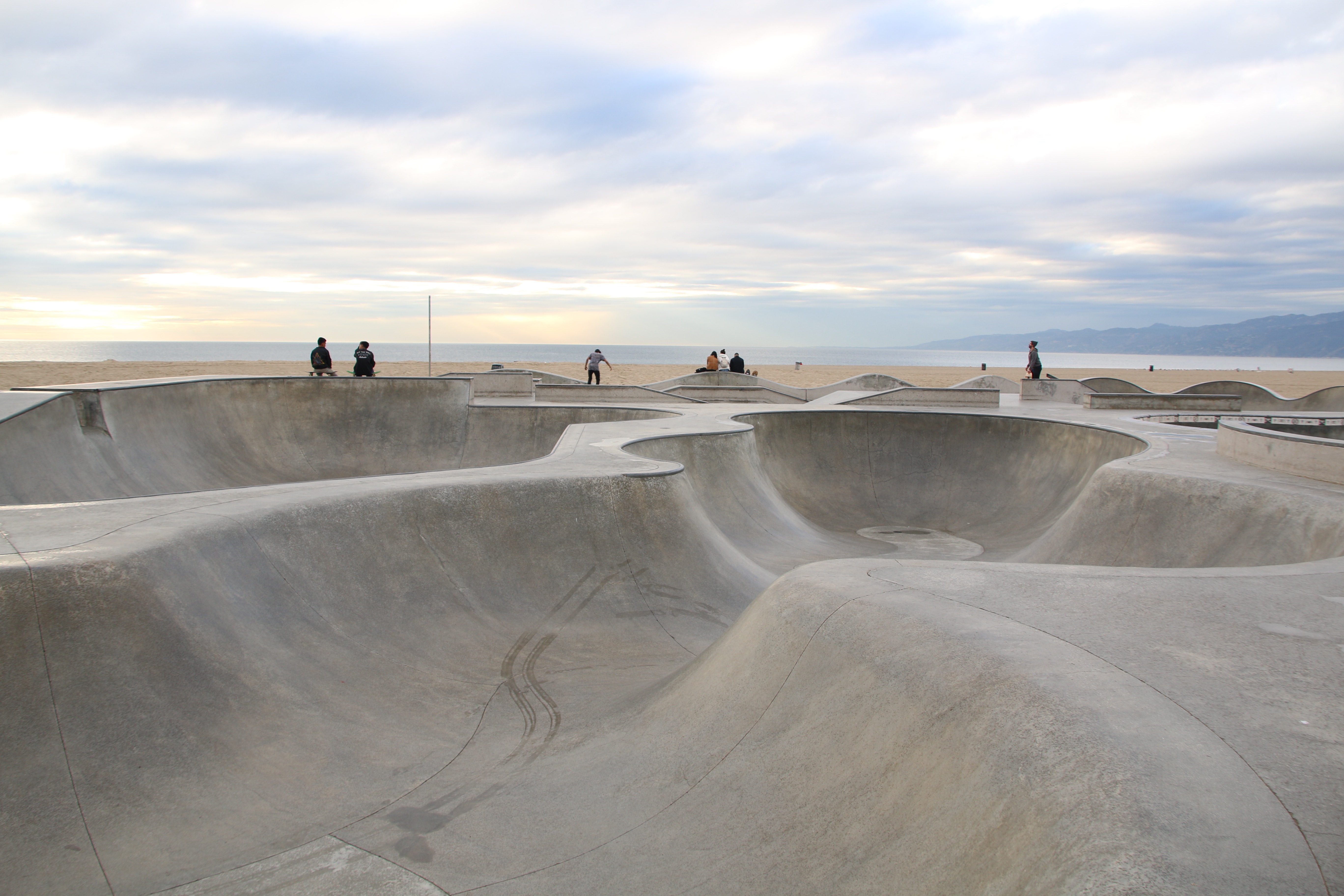 Juste à côté de la plage de Santa Monica se trouve la célèbre plage de Venice Beach. La promenade est ce qui attire la plupart des gens à cet endroit. Vous verrez un skate park incroyable, des gens qui jouent de la musique, des marijuanas médicales et tout plein d'autres choses farfelues qui font de ce quartier un endroit libre et de paix.
Right next to the beach of Santa Monica is the famous beach of Venice Beach. The walk is what attracts most people to this place. You'll see an incredible skate park, people playing music, medical marijuana and lots of other wacky things that make this area a free and peace place.
PACIFIC COAST HIGHWAY
Et pour aller un peu plus loin, après avoir profité des vues panoramiques, arrêtez-vous dans une cabane de fruits de mer, comme Malibu Seafood ou Reel Inn, pour des hamburgers ou des poissons grillés à la perfection. Découvrez l'une des plus belles plages de Malibu : Topanga State Beach, Zuma Beach ou les petites plages isolées qui sont toutes aussi jolies.
And to go a little further, after enjoying panoramic views, stop in a seafood hut, like Malibu Seafood or Reel Inn, for hamburgers or grilled fish to perfection. Discover one of the most beautiful beaches of Malibu: Topanga State Beach, Zuma Beach or small secluded beaches that are just as pretty.
GRIFFITH PARK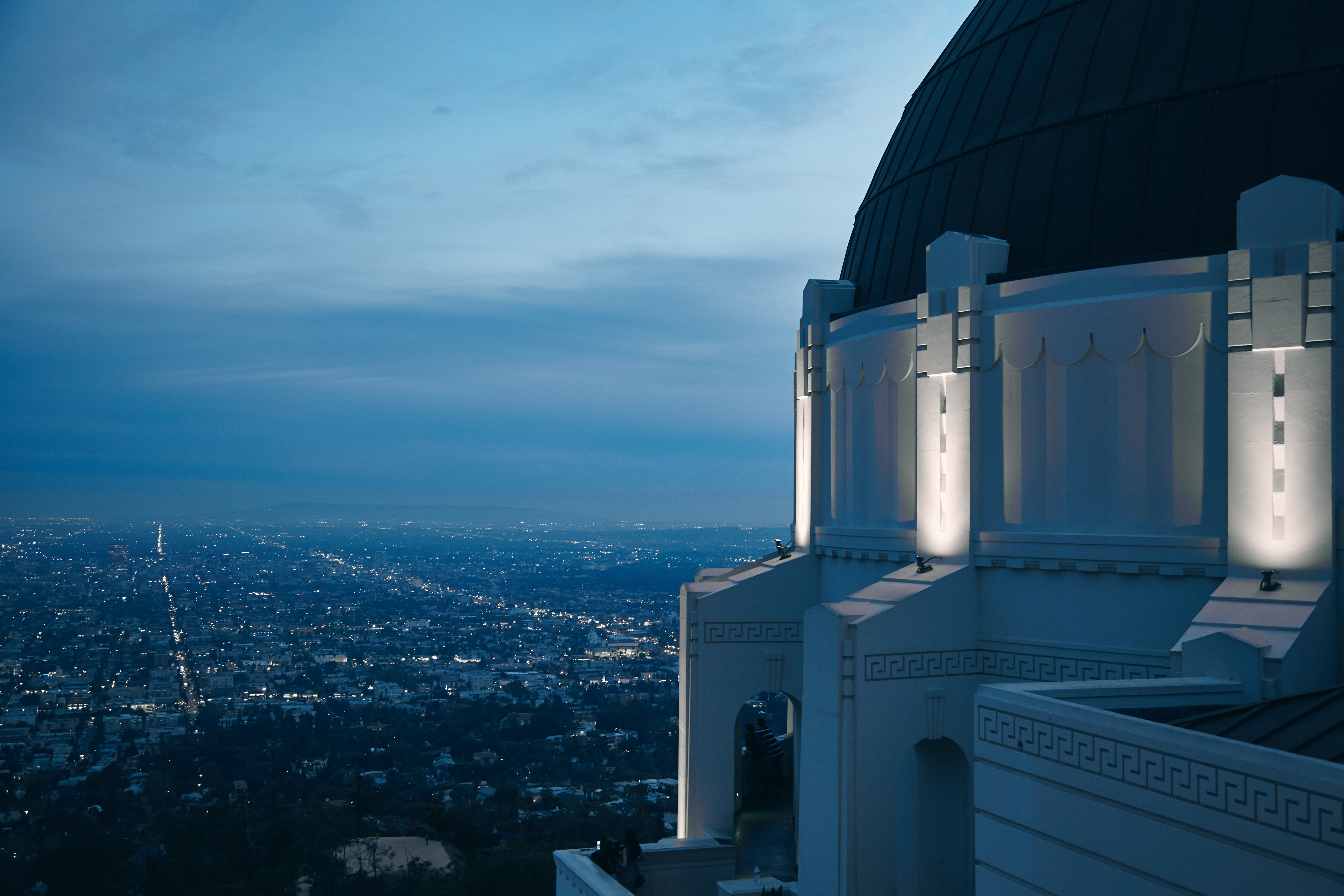 Rendez vous à l'Observatoire de Griffith où vous aurez une vue décisive sur le panneau d'Hollywood, et où vous pourrez prendre des photos dans l'un des emplacements de films les plus emblématiques de tous les temps, et dernièrement dans le film La La Land. Le parc de Griffith est lui aussi énorme et l'un des itinéraires les plus populaires est le Mont Hollywood, qui offre une vue panoramique sur le bassin de Los Angeles, l'Observatoire de Griffith et le panneau d'Hollywood en cours de route.
Go to Griffith Observatory where you will have a decisive view of the Hollywood sign, where you can take pictures in one of the most iconic movie locations of all time, and most recently in the movie La La Land. Griffith Park is also huge and one of the most popular itineraries is Mount Hollywood, which offers a panoramic view of the Los Angeles Basin, Griffith Observatory and the Hollywood sign along the way.
FARMER MARKET
Le marché des agriculteurs abrite aujourd'hui plus de 85 boutiques et restaurants. Dans ces marchés vous trouverez de tout : d'une cuisine brésilienne à une crêperie française, des produits frais de la ferme, les glaces à l'ancienne, les boulangeries et une variété de magasins uniques. Tout le monde y vient pour manger, boire et profiter de l'ambiance. Le Farmer Market de Fairfax est celui qui m'a le plus marqué par sa grandeur et ses nombreuses fêtes organisées en soirée.
The farmer's market now houses more than 85 shops and restaurants. In these markets you will find everything from a Brazilian cuisine to a French crêperie, fresh farm products, old-fashioned ice-creams, bakeries and a variety of unique shops. Everyone comes to eat, drink and enjoy the atmosphere. Fairfax's Farmer Market is the one that has impressed me most with its greatness and its many evening parties.
HOLLYWOOD SIGN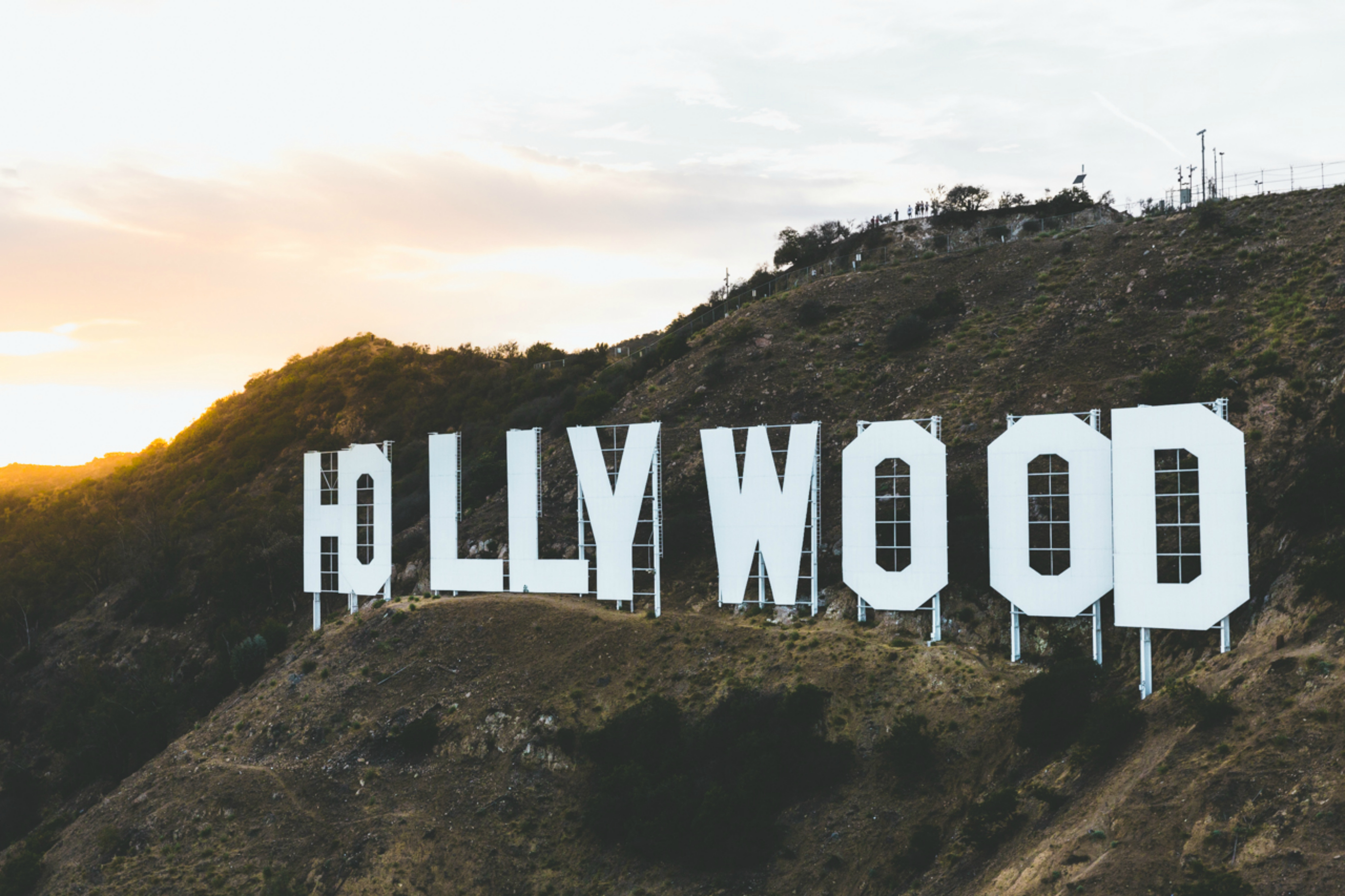 Votre visite à Los Angeles ne serait pas complète sans avoir repérer et shooté le panneau de Hollywood. Il est illégal de se rapprocher du panneau, mais un endroit pratique pour l'observer est le centre commercial Hollywood and Highland qui vous offrira une sublime vue.
Your visit to Los Angeles would not be complete without spotting and shooting the Hollywood sign. It is illegal to get closer to the sign, but a convenient place to observe it is the Hollywood and Highland shopping center that will offer you a sublime view.
SUNSET STRIP
L'une des avenues les plus célèbres de la route de L.A. est le légendaire Sunset Strip à West Hollywood où le rock and roll a eu son apogée. On y trouve des lieux de musique historiques tels que le Whisky A Go Go et des restaurants acclamés comme The Eveleigh.
One of the most famous avenues of the L.A road is the legendary Sunset Strip in West Hollywood where rock and roll has had its peak. There are historic music places such as Whiskey A Go Go and acclaimed restaurants like The Eveleigh.
DODGER STADIUM
Une façon de se fondre avec les gens du pays est de s'entourer avec eux. Sortez au Dodger Stadium pour un jeu de baseball et n'oubliez pas de vous habiller en bleu et de manger un Dodger Dog. À moins que ce soit un gros jeu, les billets de Dodger sont faciles à trouver. Los Angeles est vraiment une ville de champions, alors ne manquez pas ces héros du stade.
One way to blend with locals is to surround themselves with them. Step out to the Dodger Stadium for a baseball game, and do not forget to dress yourself in blue and eat a Dodger Dog. Unless it's a big game, Dodger tickets are easy to find. Los Angeles is really a city of champions, so do not miss these heroes stadium.
RUNYON CANYON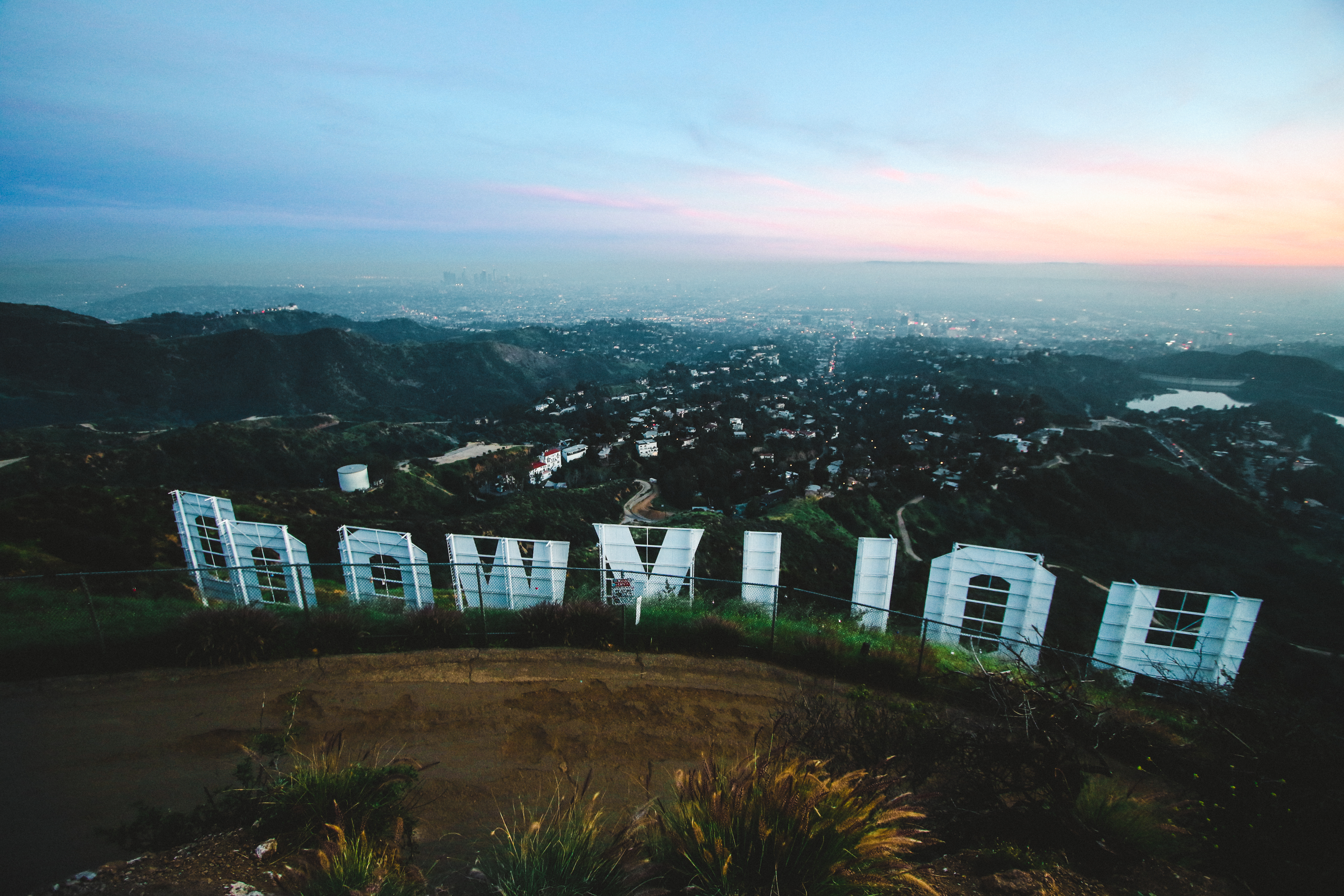 Pour une vue différente de Hollywood, dirigez-vous vers Runyon Canyon Park, l'une des zones de randonnée les plus populaires de Los Angeles. Il est connu pour ses fréquentes visites de célébrités et pour sa promenade pour chiens mais aussi pour sa vue imprenable sur la ville et sur le panneau d'Hollywood.
For a different view of Hollywood, head for Runyon Canyon Park, one of the most popular hiking areas in Los Angeles. It is known for its frequent visits of celebrities and for its walk for dogs but also for its impregnable view on the city and the Hollywood Sign.
HOLLYWOOD CINEMAS ARCLIGHT
Ne cherchez pas plus loin que l'ArcLight de Hollywood pour une expérience de cinéma à Los Angeles. Chaque film est présenté par un annonceur en direct qui n'hésite pas à ajouter sa petite touche d'humour. Et si vous êtes chanceux, vous risquerez de tomber sur les réalisateurs qui font souvent des apparitions pour discuter de leur travail.
Look no further than ArcLight of Hollywood for a movie experience in Los Angeles. Each film is presented by a live announcer who does not hesitate to add his touch of humor. And if you're lucky, you may meet producers who often make appearances to discuss their work.
GETTY CENTER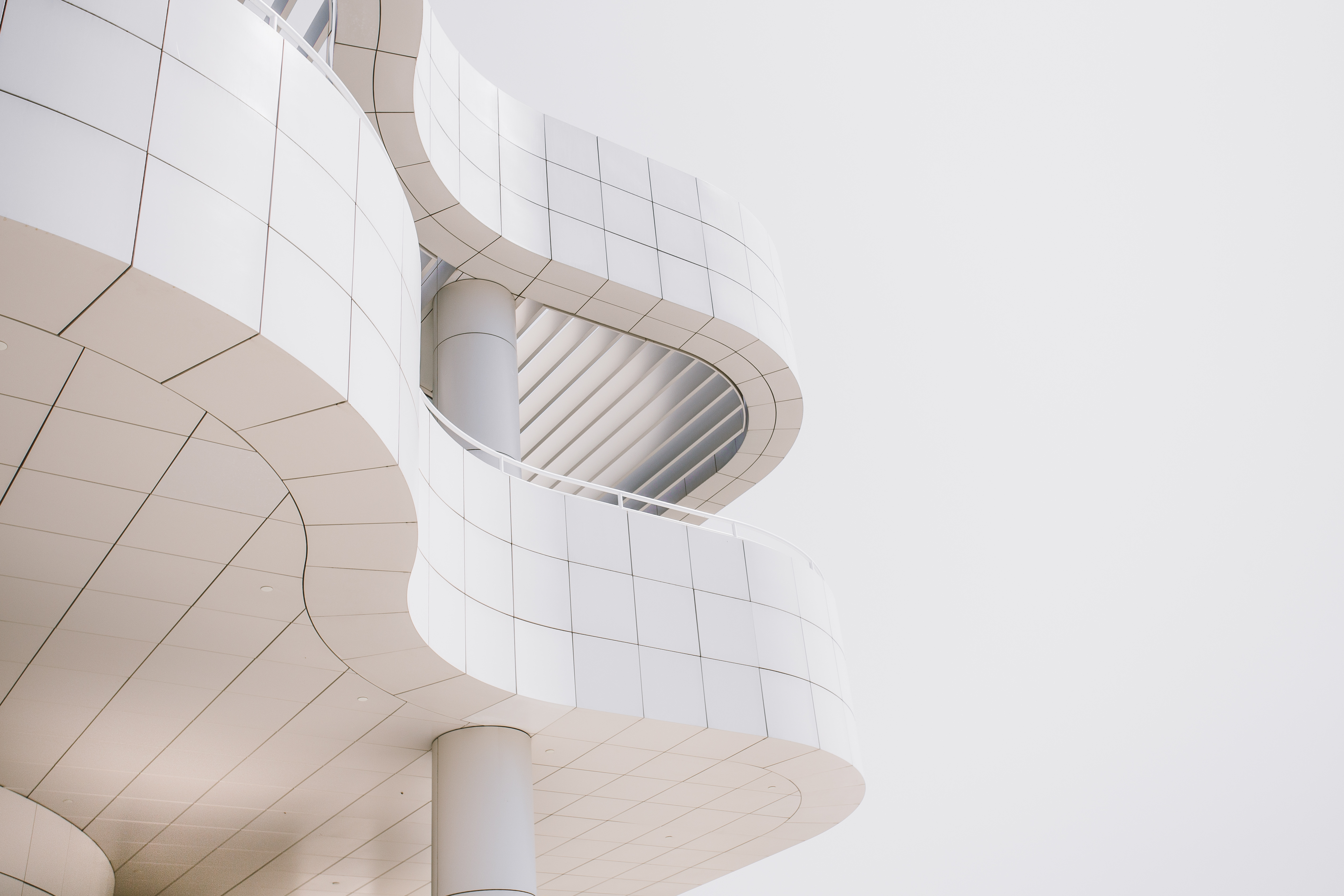 Les musées de Los Angeles abritent certaines des collections d'art les plus renommées au monde. Une impressionnante collection d'art européen réside au Getty Center sur une colline surplombant Los Angeles. Dans le complexe conçu par Richard Meier vous pouvez découvrir des galeries d'inondations de lumière naturelle remplies de toiles impressionnistes tels que les «Irises» de Van Gogh, d'antiquités grecques et d'expositions de meubles et d'arts décoratifs de la monarchie française. Ses jardins piétonniers sont sublimes et un dîner au restaurant avec les vues panoramiques est un souvenir.
Los Angeles Museums are home to some of the world's most renowned art collections. An impressive collection of European art lies in the Getty Center on a hill overlooking Los Angeles. In the complex designed by Richard Meier you can discover natural light flood galleries filled with Impressionist paintings such as Van Gogh's "Irises", Greek antiquities and furniture and decorative arts exhibitions of the French monarchy. Its pedestrian gardens are sublime, and a sunset dinner at the restaurant, with its panoramic views, is a keepsake.
LOS ANGELES COUNTY MUSEUM OF ART
C'est sans aucun doute le musée préféré de tous les instagrameurs. La sculpture Urban Light de Chris Burden, composée de plus de 220 lampadaires anciennes marque complètement l'emplacement. À l'intérieur, vous trouverez l'une des collections d'art les plus complètes du pays avec plus de 120 000 objets datant de l'Antiquité au présent.
Undoubtedly, it is the favorite museum of all instagramers. The sculpture Urban Light by Chris Burden, made up of over 220 old lamp posts completely mark the location. Inside, you will find one of the most complete collections of art in the country with more than 120,000 objects dating from the Antiquity to the present.
THE BROAD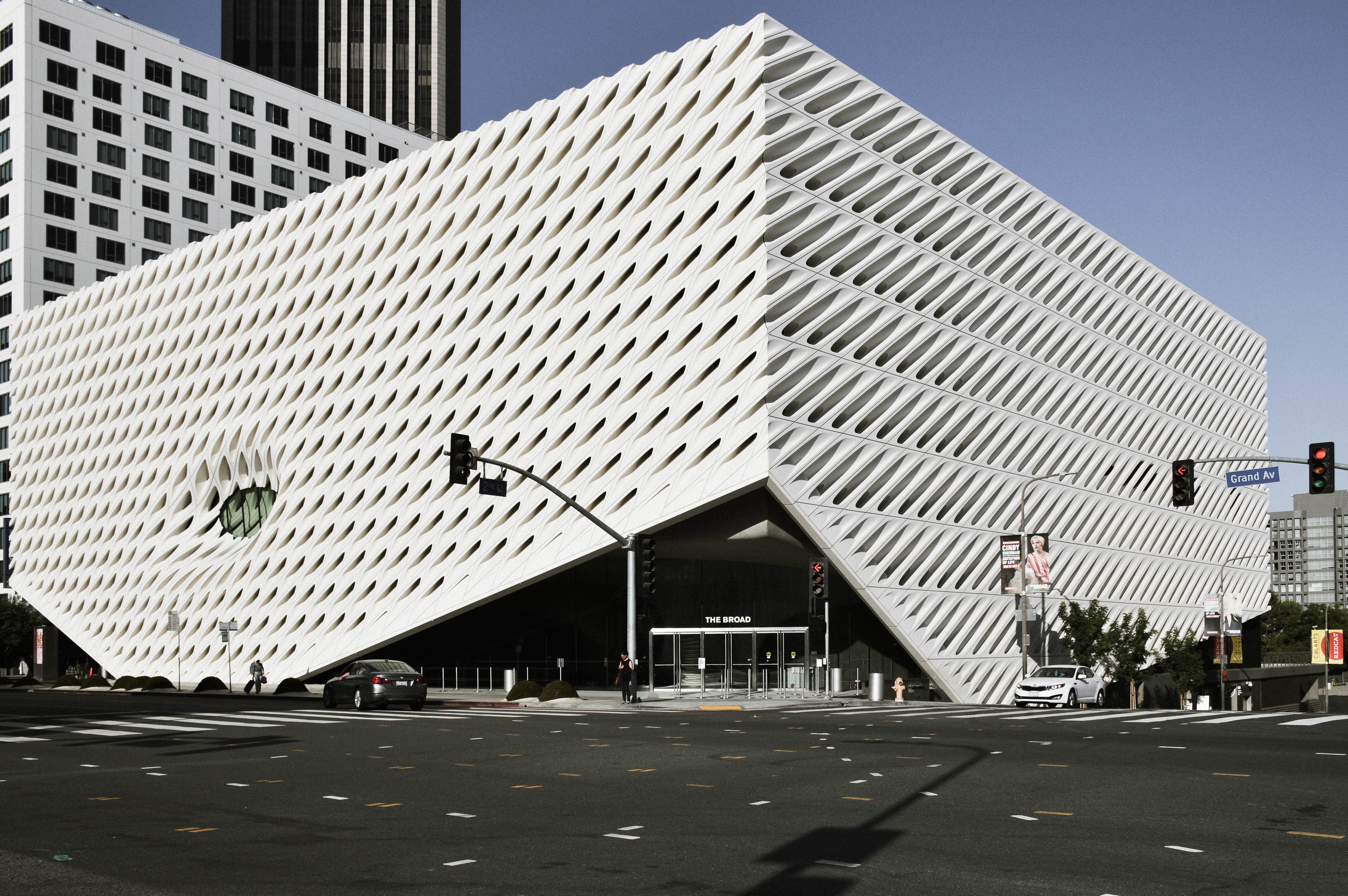 Ce musée dans un bâtiment intrigant a été créé par les philanthropes Eli et Edythe Broad pour mettre en valeur leur superbe collection privée d'art contemporain. Avec plus de 2 000 pièces de plus de 200 artistes, la collection présente des représentations approfondies du travail de noms aussi importants que Jean Michel Basquiat, Jeff Koons, Ed Ruscha, Cindy Sherman et Kara Walker.
This museum in an intriguing building was created by the philanthropists Eli and Edythe Broad to showcase their superb private collection of contemporary art. With more than 2,000 pieces by more than 200 artists, the collection presents in-depth representations of the work of names such as Jean Michel Basquiat, Jeff Koons, Ed Ruscha, Cindy Sherman and Kara Walker.
Alors, laquelle de ces activités arrive en tête de votre bucket liste?
So which of these activities comes on top of your bucket list?