Located in the Mediterranean Sea, the Spanish island of Mallorca is a true paradise on earth and should definitely be at the top of your list of things to do and see in Spain.
Mallorca is the largest of the Balearic Islands and offers many natural wonders to discover, starting with incredible beaches. After having visited this island up and down for several years, today I share with you the 10 most beautiful beaches in Mallorca (or at least my favorites). Vamos!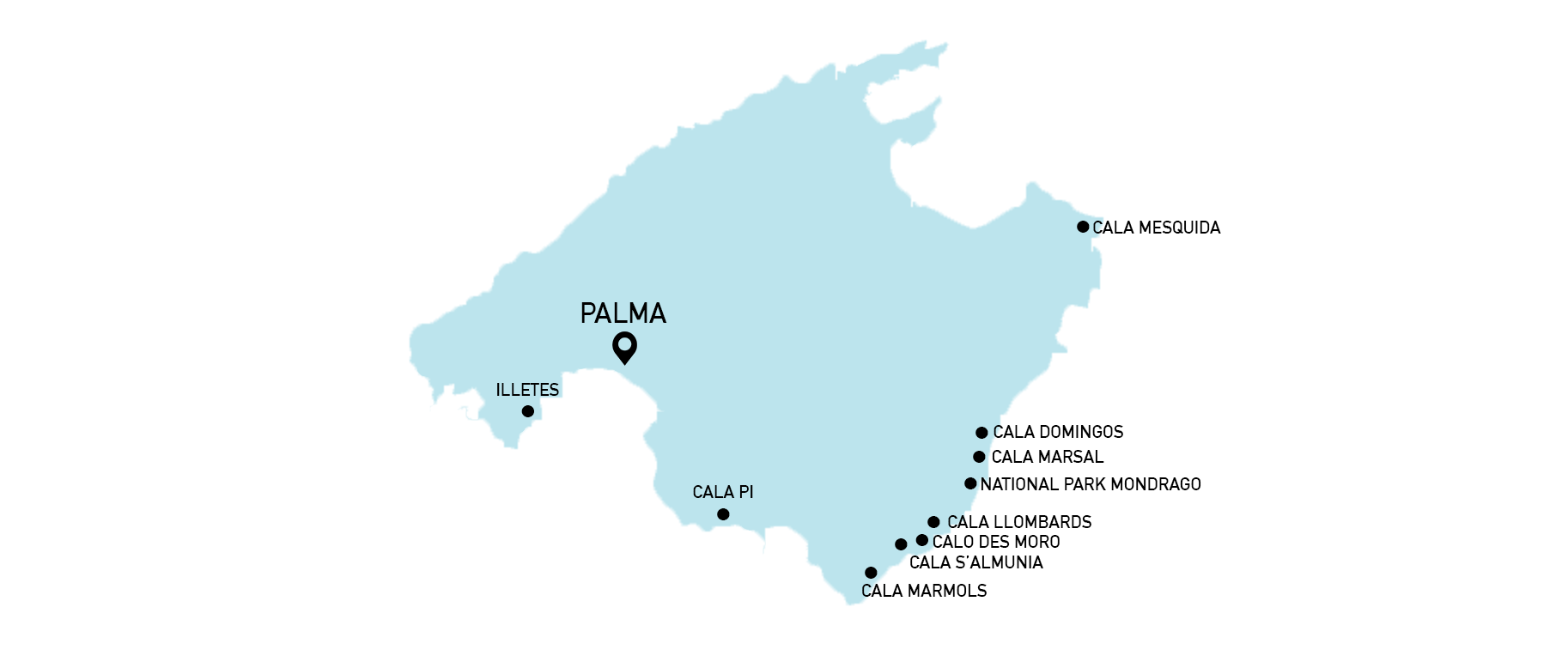 1. CALA DOMINGOS
Cala Domingos, my favorite beach on the island of Mallorca. After visiting all the popular beaches, I wanted to venture to lesser-known but equally beautiful beaches and discover the island's treasures for myself. So we came across this amazing beach and wow! She is incredible ! You will be surprised to see the cleanliness of this beach and the color of the water, a real swimming pool!
2. CALO DES MORO
One of the most spectacular beaches in Mallorca! The path to the beach is steep and can be tricky if you are traveling with very young children. The walk takes about 20 minutes and you have to go down some rocks to get to this tiny little beach which is easily overcrowded. In my opinion, this is not a beach for a family day out, but rather a heavenly place to swim and enjoy the sea. 
Note: There is no facility once on the beach, so pack what you need for the day.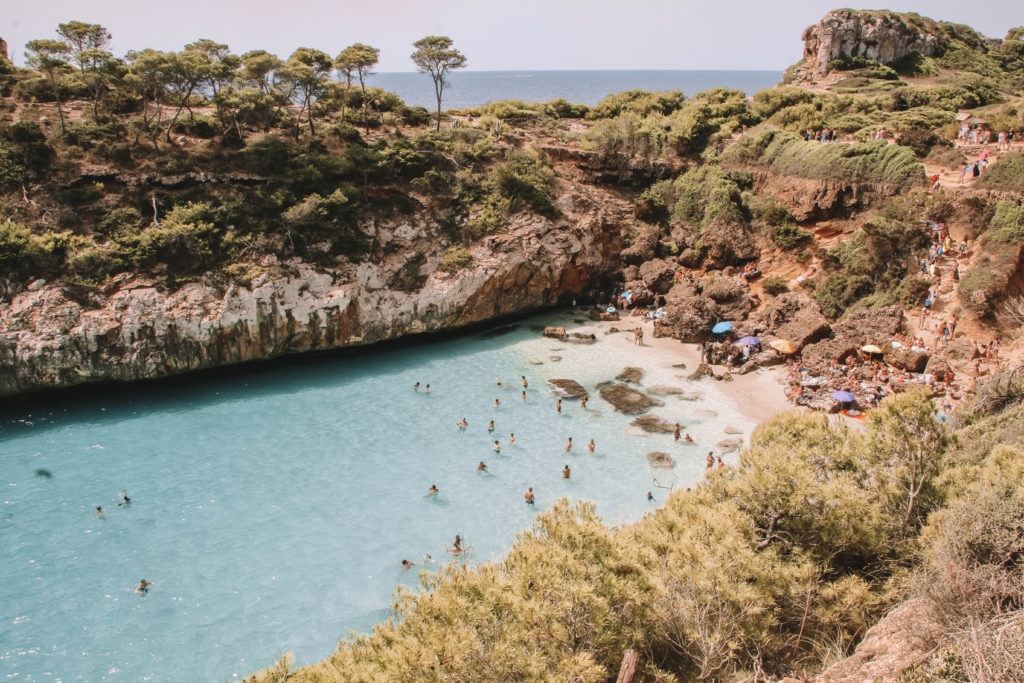 3. CALA S'ALUMNIA
Cala S'Almonia is 5 minutes from Calo Des Moro beach. The water at this beach is just as transparent and pleasant. Not to be missed if you pass by.
4. CALA LLOMBARDS
The south-east of Mallorca has a rare pearl, the incredible beach of Cala Llombards or the most "instagrammable" beach on the island. The beach is surrounded by high cliffs and pine trees, offering spectacular views from the beach. The sand is shiny and fine-grained and the water is clear providing the perfect conditions for snorkelling.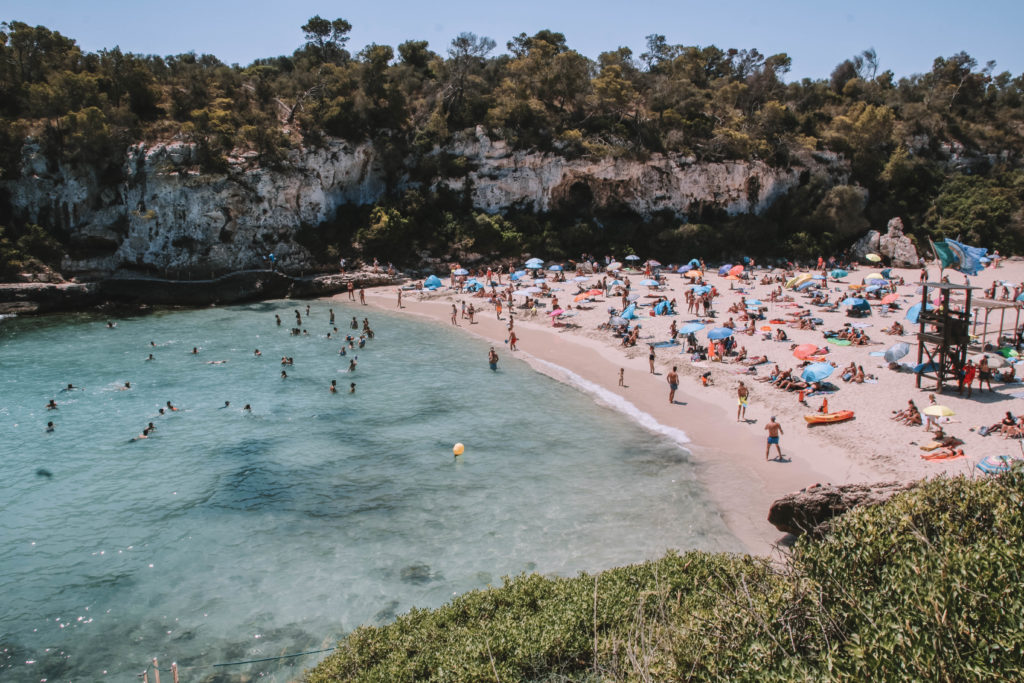 5. MONDRAGO NATIONAL PARK - S'AMARADOR
The amazing S'Amarador beach in Mondrago National Park. With my boyfriend we love this fine sandy beach with its incredibly turquoise water with a very family atmosphere. From S'Amarador beach you can walk along the cliff and walk to the nearby Cala Mondragó beach where you will find a restaurant. 
6. ILLETES
The pretty beach of Illetas (or Illetas or Ses Illetes) is beautifully situated inside a bay. The beach is not that big, but the sand is soft and golden, and the sea is crystal clear and welcoming.
Illetes also has this chic side with its two beach clubs: Las Terrazas, ideal for lunch or dinner and the Purobeach located on a rocky platform at the end of the beach, perfect for chilling on a deckchair and sipping good cocktails.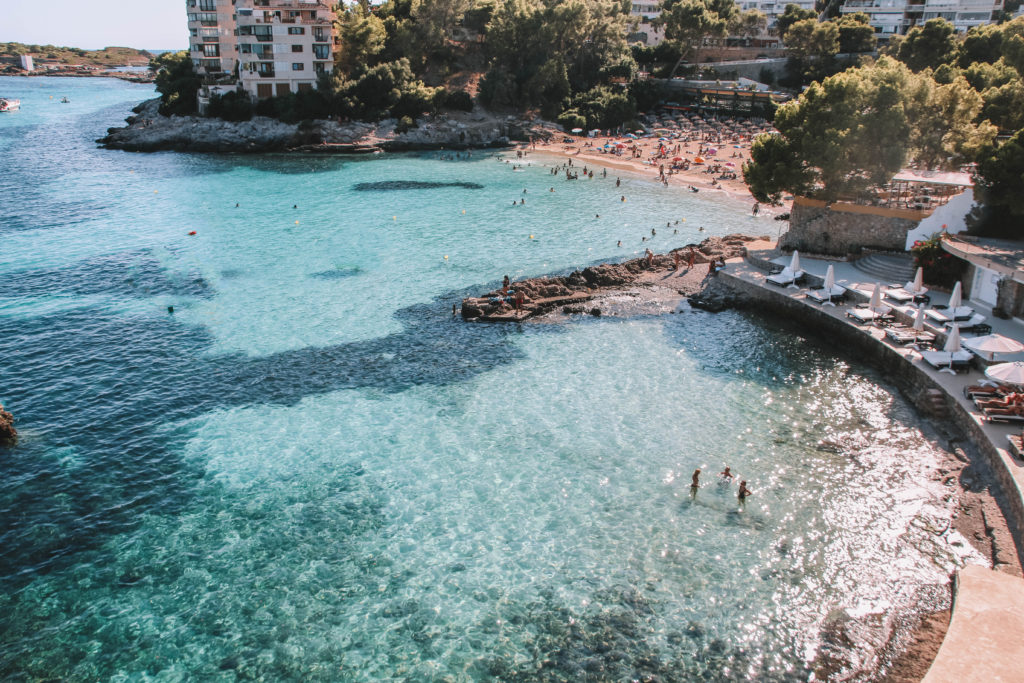 7. CALA MARMOLS
Cala Marmols or Caló des Màrmols (the Marble Bay) is a small, secluded, idyllic sandy bay on the south-eastern coast of Mallorca, far from bustling seaside resorts and crowded beaches. This is explained by its difficulty of access: you can get to this beach by boat or by walking 5.5 km from the Cap de Ses Salines lighthouse, a good 1.5 hour walk. It's a tough hike, especially in hot weather, but the surroundings are quite unique and the beach is well worth the trip. There are obviously no facilities on the road or on the beach so be sure to bring your food and plenty of water.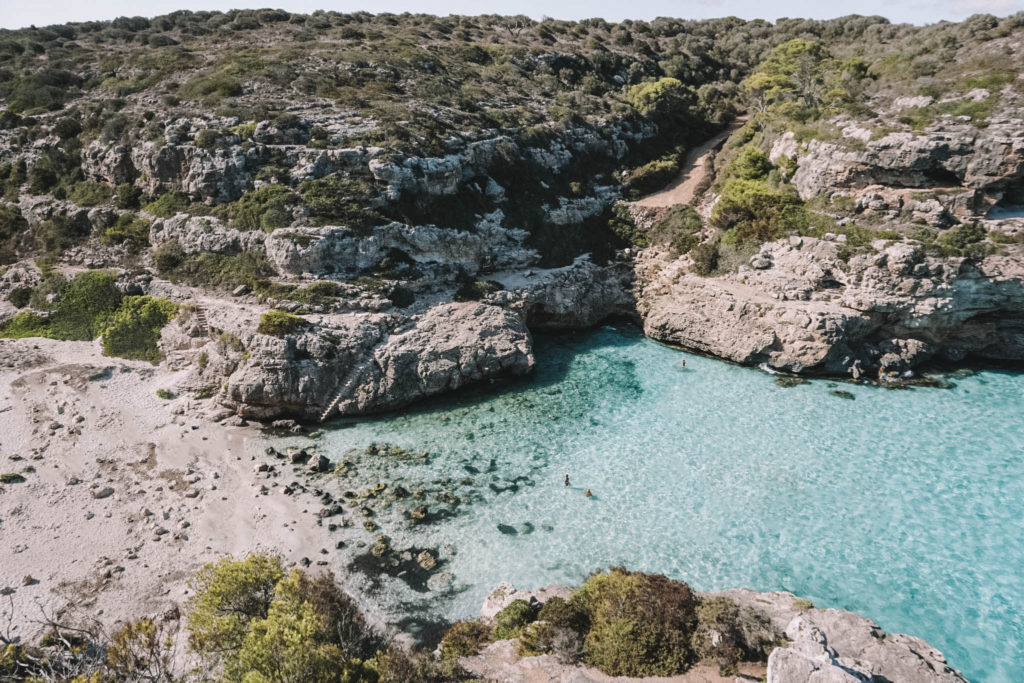 8. CALA PI
Cala Pi is the perfect place to relax and enjoy the sun and nature that this beach offers us. Note that this little corner of paradise must be earned because to reach Cala Pi beach, you will have to take a staircase of 147 steps. However, the views of the cove are spectacular. 
9. CALA MESQUIDA
Cala Mesquida is located in one of the most picturesque areas of Mallorca, in the northeastern part of the island. It is located in a large bay, surrounded by rocks on both sides. You will have a great view if you go up the rocks.
10. CALA MARSAL
Cala Marsal (or Cala Marcal) beach is located on the east coast of Mallorca, near the village of Portocolom. It is a very spacious beach and perfect for getting there with the family: there are all facilities you could need such as sun loungers, umbrellas, showers and toilets. But you will also find a beach bar, superb restaurants with a lovely view of the sea, a small playground for children and pedal boats available for hire. 
Visiting amazing beaches of Mallorca is a truly rewarding experience, but taking the time to search for a true hidden gem takes adventure to a whole new level! So which of these beaches would you add to your to-do list?