Western Mallorca is shaped by a mountain range, offering spectacular scenery, a sense of seclusion and great hiking. Nestled in peaks are some of the island's most treasured towns and villages. Sóller, Valldemossa and Deià are the most famous places, but their neighboring towns are just as charming.
In this article, I will present to you all the great activities and things to do on the west coast of Mallorca, from the south to the north. To find your way around and organize yourself as well as possible, I advise you to refer to the map below each time. Vamos!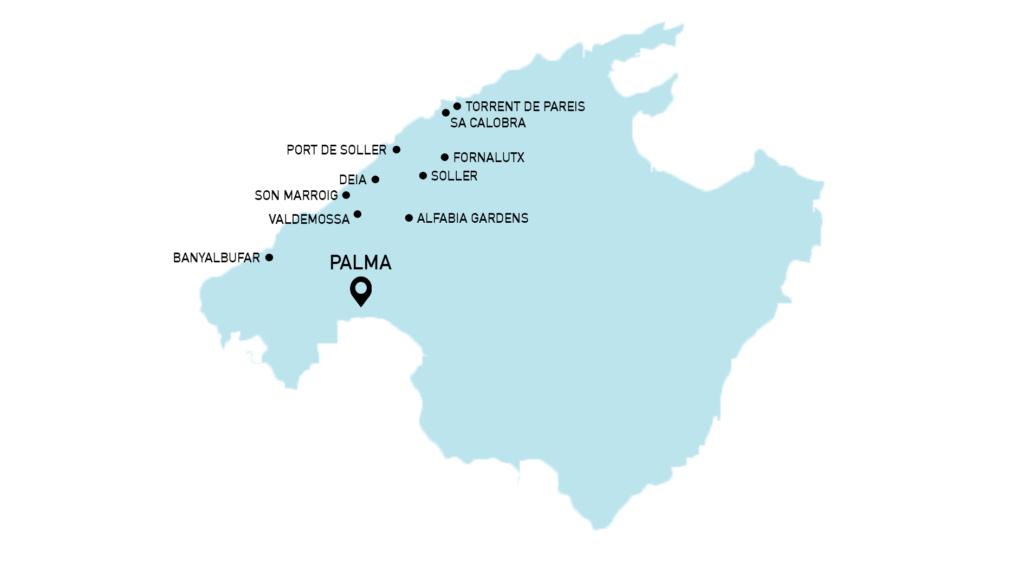 BANYALBUFAR
Banyalbufar is one of the last authentic coastal villages in Mallorca. Most people come to Banyalbufar to see one thing, its ancient terraced hills reaching down to the sea, but magnificent views of the Tramuntana mountains and incredible sunsets await you here as well.
Visit the Bodega Son Vives vineyard
The work in this vineyard is very intensive and carried out almost entirely by hand. Thus wines acquire their particular character. You can buy excellent wine and taste local products with a good glass of wine during the tour, while watching the sun set over the sea. Tastings are mostly done on Fridays and Saturdays during summer. Good to know: open from Friday to Sunday and to be contacted in advance for schedules.
Swimming at Cala Banyalbufar beach
Cala Banyalbufar is a narrow beach located in a beautiful bay and surrounded by steep cliffs and mountains. It is a beautiful cove with very clear water but beware of small stones in the water, water shoes can be useful here.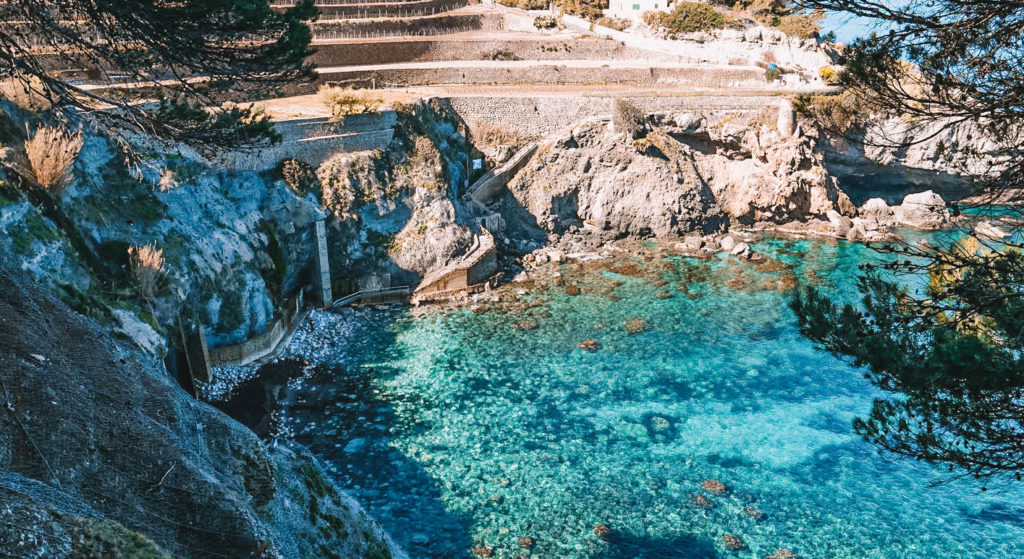 VALLDEMOSSA
The town of Valldemossa is only about a 15-20 minute drive from Palma de Mallorca in the Tramuntana mountains, but here it feels completely like another world. Made famous by the stay of George Sand and Frédéric Chopin during winter of 1839, it offers throughout the year an unsuspected range of sensations and discoveries.
Get lost in the village
The village of Valldemossa is one of the must-sees on the island of Mallorca. It is an idyllic mountain village in the Serra de Tramuntana, which is one of Mallorca's most charming sites with its narrow streets and stone houses. Getting lost in the streets of the village will allow you to soak up the soul of Valldemossa. Not to be missed: a visit to the Real Cartuia Monastery, home to the exact place where George Sand and the famous composer stayed during winter from 1838 to 1839.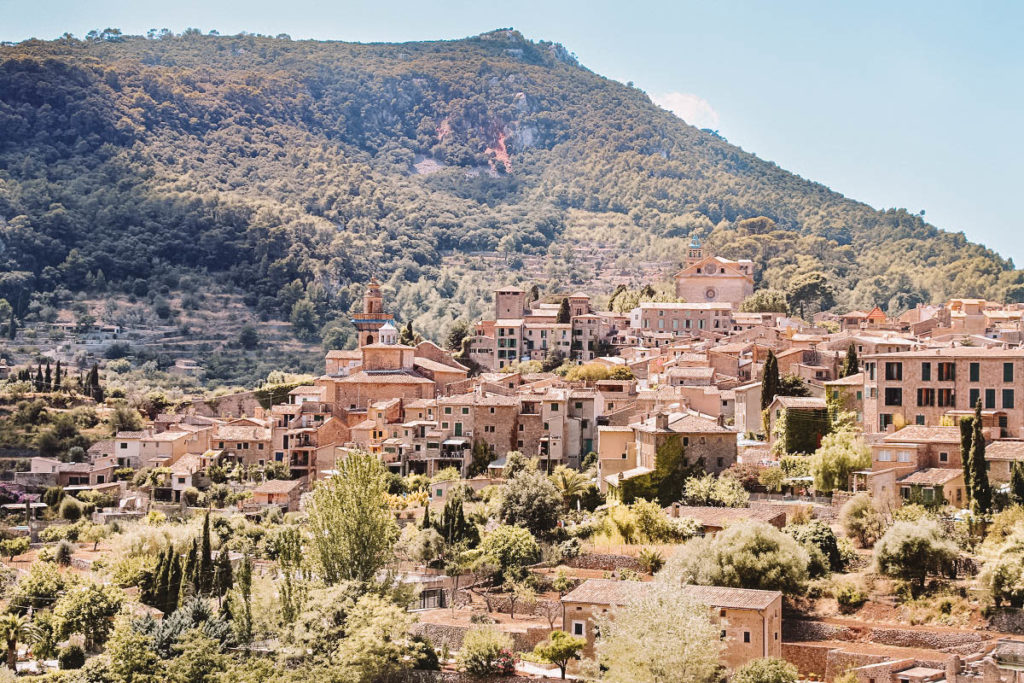 Buy 100% Mallorcan olive oil
It is in the Son Moragues agricultural estate, dating back 700 years, that you will find the best olive oil on the island. You can also buy their organic jams which are excellent!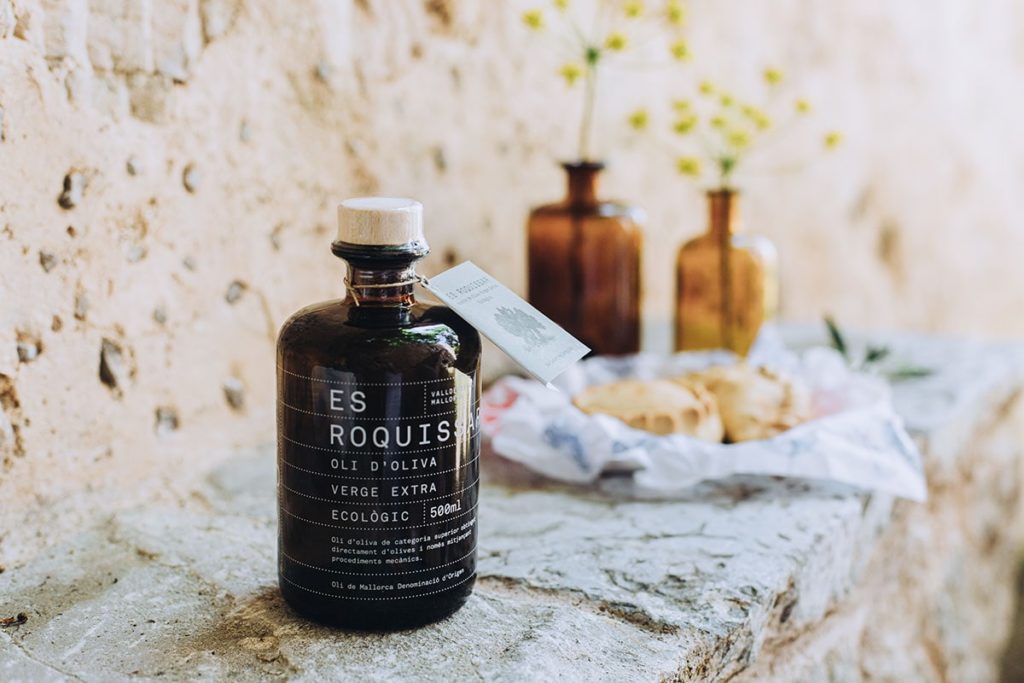 Eat good tapas
Are you looking for a place to eat good tapas? Head to the best tapas bar in the village: QuitaPenas Valldemossa. Small and authentic, you can savor fresh and delicious local specialties.
Taste the specialty of Valdemossa "Potato Coca"
One of the best places to taste this specialty is the Ca'n Molinas Bakery, with a good hot chocolate you will love it!
DEIA
The village of Deia, one of the most beautiful villages on the island, is nestled between the sea and the spectacular Tramuntana mountain range. There is something magical about this village and it has long been a source of inspiration for artists.
Go to Son Marroig viewpoint
This place is one of the most spectacular viewpoints on the island. Not surprisingly, many honeymooners choose this location for their wedding ceremonies. Note: sunsets are incredible from here!
Lunch at Sa Foradada restaurant
To get there, from Son Marroig viewpoint you will have to follow the wooden sign "Bar Sa Foradada Rte" and allow 40 minutes of walking downhill (which you will obviously have to go up afterwards, an important detail). You will eat one of the best paellas on the island with a breathtaking view.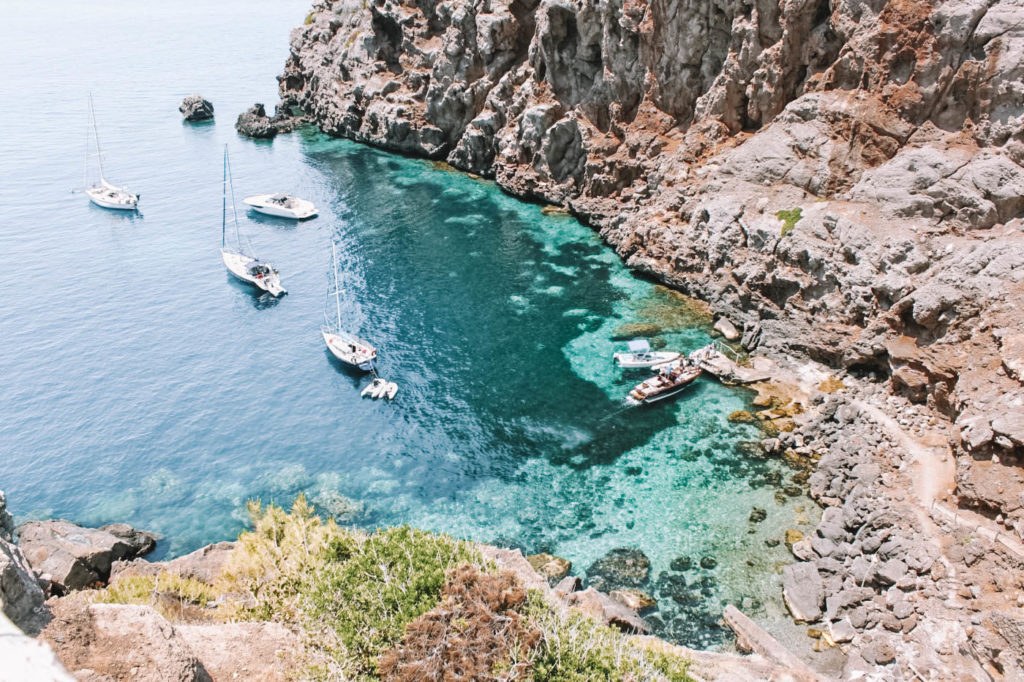 Swimming at Cala Deia
The beach is rather small and full of pebbles, but the scenery is exceptional. I advise you to come early because crowded it loses all its charm.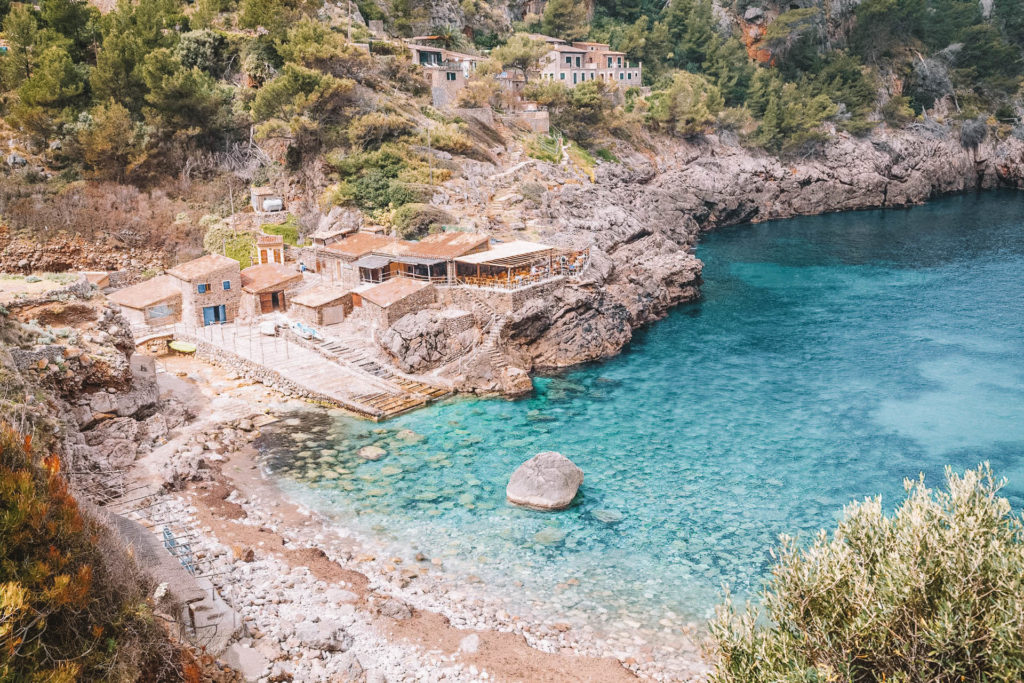 Lunch at Ca's Patro March restaurant
On Cala Deia Beach, Ca's Patro March is the most famous fresh fish and seafood restaurant here thanks to its presence in the award-winning BBC TV series The Night Manager and its many Instagram mentions. I advise you to book well in advance as it is a very popular restaurant. Note: take cash with you, they do not accept credit cards. To reserve: +34 971 63 91 37.
Dinner at El Olivo restaurant at the Belmond la Residencia hotel
If you had to choose just one luxurious restaurant to do on the island and have a real culinary experience, I recommend El Olivo restaurant. The setting, the food, the service, everything is there to make you live a memorable moment. Book in advance for sunset time, I guarantee you an incredible show. To book :Restaurant El Olivo.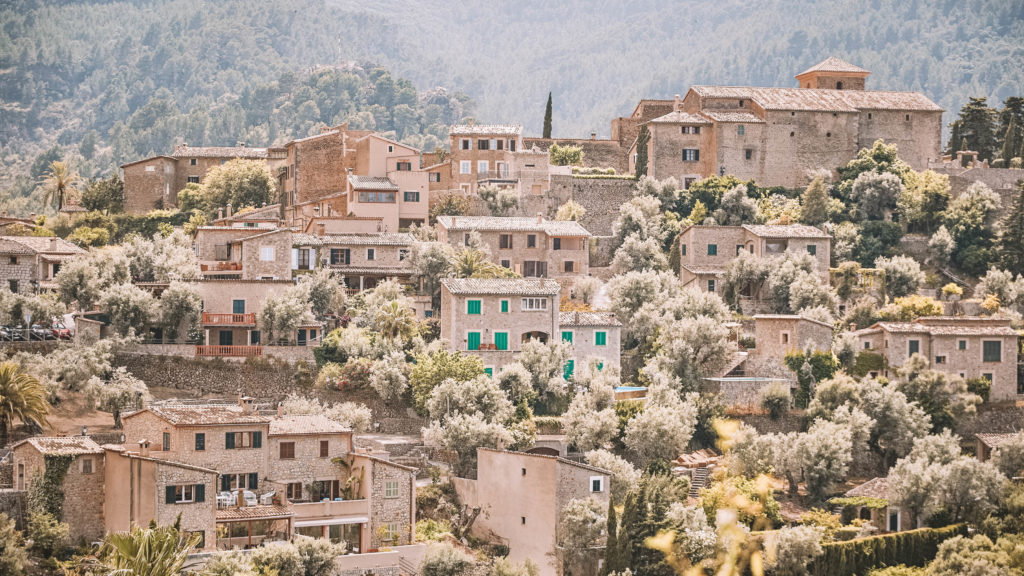 Have a drink at the Belmond la Residencia hotel
If you are on a tight budget, go for a drink on the hotel terrace just before dinner and sunset, magic will work just as well.
Visit the "Ceramics by Joanna" store
Based in Deia for over forty years, local ceramist and passionate environmentalist Joanna has become a well-known presence in the village. Do not miss his creations.
SOLLER
The town of Sóller, in the north-west of Mallorca, has grown rich thanks to the abundant citrus groves in the valley. This explains its name "the valley of oranges".
Drink a good fresh orange juice
Stroll through the main square "Plaza de la Constitucion", the heart of the town of Soller where you will find many bars and cafes offering the best orange juice on the island.
Take the tram and visit the Port of Soller
From the central square, you can take the famous vintage tram, also known as the "orange express" to reach the port of Soller. A lovely 30-minute stroll through the fields to the Port. The port has been modernized in recent years with a pretty seaside promenade dotted with benches and cafes.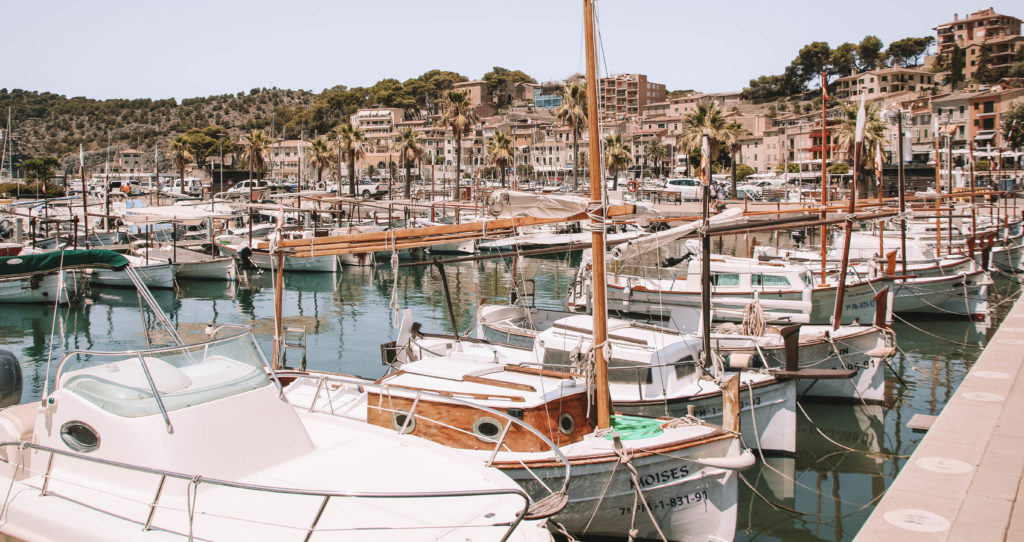 Book a boat trip
You are in a coastal town, so of course there are plenty of water activities in Soller. You can book an excursion or rent a boat without a license to enjoy the city from the sea. 
Visit the incredible Ecovinyassa farm
A sublime citrus farm where you will follow a route and learn about many fruits and history of the Soller orange trees. At the end of the tour, you will taste freshly squeezed organic orange juice and a typical island snack. Do not miss this visit ! Book your time slot directly on website: ecovinyassa.com
Dinner at the Jumeirah Port Soller hotel
This incredible luxury hotel has many restaurants, but I recommend these two superb restaurants to enjoy a beautiful sunset: The "Sunset Lounge" to savor Asian-inspired delicacies while admiring a breathtaking view of the majestic mountains Tramuntana and the "Es Fanals by Javier Soriano" restaurant to try refined cuisine of an award-winning chef, with seasonal Spanish dishes. Book your table in advanceHERE.
Visit the Alfabia Gardens
A peaceful and lush garden in the middle of mountains. A favorite activity for many because of its ideal location. Thanks to its high water table, these gardens are unique oases where numerous fountains and aqueducts create a beautiful atmosphere.
Visit the village of Fornalutx
If you have time, stop by the pretty village of Fornalutx 15 minutes from Soller, often referred to "the most beautiful village in Spain".
Spend a beach day at the incredible Torrent de Pareis
For that, it will be necessary to take the famous road of Sa Calobra and its "impossible curves". The walk to this unique place begins from Sa Calobra, via a small tunnel carved into the rock. I advise you to arrive early to enjoy this paradise before many tourists arrive.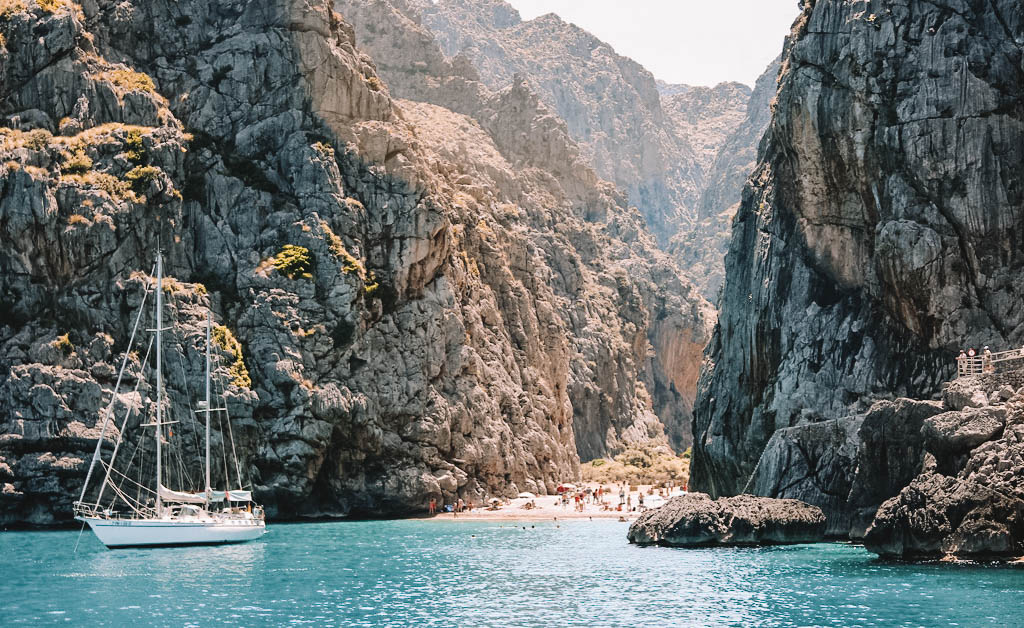 Convinced by the wealth and beauty of this West Coast? What activities will you add to your to-do list?